First United Methodist Church of Schenectady
Worship for Pentecost Sunday
May 31, 2020

"FUMC from the Air" by Peter Frisoni
Getting Centered
It may help to center yourself into worship by lighting a candle, as a symbol of God's presence with you during the time of worship. You may also want to pay attention to lighting, the position of your body, and the availability of distractions.
Breath Prayer
"In You we live and move and have our being."
Breath prayers involve breathing in the first phrase, and breathing out the second.
You may wish to simply pray for a moment before starting, or you may wish to pray while listening to the prelude.
Prelude
Come, Holy Ghost, Our Souls Inspire by Wilbur Held

Call to Worship
If you are with another person, you may wish to read this out-loud. Otherwise, you can read it as a reminder that this is communal worship done in a large geographical area.
One: In the midst of darkness there is light.
Many: In the midst of blindness, we will be given sight.
One: Our Savior, Jesus the Christ, brings healing love to us.
Many: Let the light of Jesus' love break through our blindness and
fill our world with glory.
One: Remove the bonds that trap us in darkness, Lord.
Many: Wipe away all our fears so that we may live boldly in your Love.

Hymn #702: Sing With All the Saints in Glory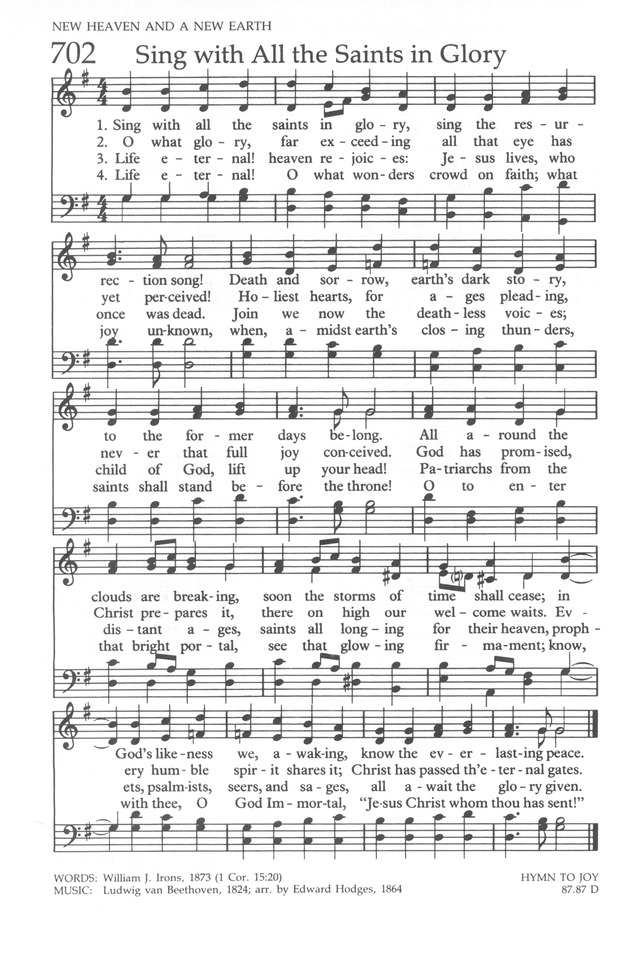 Connecting in Prayer
Shared Prayer – UMH 465:1-3
Holy Spirit, Truth divine, dawn upon this soul of mine;
Word of God and inward light, wake my spirit, clear my sight.
Holy Spirit, Love divine, glow within this heart of mine;
Kindle every high desire; perish self in thy pure fire.
Holy Spirit, Power divine, fill and nerve this will of mine;
Grant that I may strongly live, bravely bear, and nobly strive.
Silent Prayer
Pastoral Prayer – Rev. Brooke Newell, Pastor of Queensbury UMC
You are welcome to read this out-loud or silently.
Satisfy us with your love in the morning, and we will live this day in joy and praise. We praise you, O God our creator, for your handiwork in shaping and sustaining your wondrous creation. Especially we thank you for the ministry of the church and its members…Those who provide for public safety and wellbeing: paramedics, police, health workers, and fire fighters…Families and those who are like family for us… Opportunities to be a blessing to the world around us…Warm days. We dare to pray for others, God our Savior, claiming your love in Jesus Christ for the whole world, and committing ourselves to caring for others in his name. Especially we pray for: All who are sick with the corona virus …doctors, nurses, and those on the front lines of the health crisis… Teachers learning new technology and children learning from home…Those who feel isolated and alone…All who are struggling to make ends meet. As you cause the sun to rise, O God, bring the light of Christ to dawn in our souls and dispel the shadows of hatred and fear. Give us grace to reflect Christ's glory; and let his love show in our deeds, his peace shine in our words, that all may give him praise, now and forever. Amen
The Lord's Prayer
Our Father who art in heaven,
Hallowed be thy name.
Thy kingdom come.
Thy will be done on earth, as it is in heaven.
Give us this day our daily bread.
And forgive us our trespasses,
as we forgive those who trespass against us.
And lead us not into temptation,
but deliver us from evil:
For thine is the kingdom, and the power,
and the glory, for ever. Amen.
Word and Reflection
Choir Anthem
I Will Sing With the Spirit – John Rutter

I will sing with the spirit, alleluia.
And I will sing with the understanding also: alleluia.
Scripture – Isaiah 41:1,9-10
Mission Moment – Sue Learner
Face Mask Project
On March 20, Marcia Steiner, Vice President of the Foundation for Ellis Medicine reached out to Schenectady Clergy Against Hate to solicit assistance in making cloth face masks to protect workers at Ellis Hospital from COVID-19 exposure. Kathleen Morris, the President of a local quilter's guild, QUILTSchenectady, was asked to coordinate this mask-making effort. Even though Ellis Hospital decided not to use the hand-made masks, other organizations were in need of such protection. Eventually, on April 2, the CDC guidelines changed, recommending that everyone wear a face mask in public.
Through QUILTSchenectady, a process was soon developed. Completed masks were to be dropped off at designated 'hubs,' which would then be picked up by a 'hub manager,' and distributed to requesting organizations. Proctor's employee, Chelsea Moore, made calls to area organizations, assessing their face mask needs.
The Clergy Against Hate message was passed along to Rev. Eileen Deming, who sent out requests to all our fabric ministry folks at First United Methodist Church (FUMC), including Jan Huston. Jan is a member of QUILTSchenectady, and asked Kathleen Morris to contact Sue Learner to coordinate FUMC's participation.
We let Kathleen know that FUMC was happy to serve as a face mask drop-off hub. We set up a covered plastic bin outside the Chapel Street entrance, and from 9:00am to 4:00pm, Monday through Friday, people could leave their masks. We also had a box set up in the Gathering Room, so that church members with keys could drop off masks at any time. We would deliver the masks twice a week to the hub manager for distribution. Our hub manager, Felicia Campo, deployed drivers to pick up masks from other drop off sites through the area, and deliver them to the health care and related organizations that had requested them.
After a few weeks, most mask makers were running low on elastic. This was needed for attaching the masks to a person's face. Several folks decided to make masks with ties instead of elastic ear loops, as elastic became very difficult to acquire. Early on, QUILTSchenectady had ordered a large quantity to help alleviate this shortage but delivery was coming from a manufacturer in China and was slow in arriving. It arrived on April 21, and we were able to deliver elastic to 5 FUMC mask makers. More was available in the drop-off bin for any who needed it.
On May 19th, we received notice that the mask-making project had ended. Since March 22, members of QUILTSchenectady and sewing friends have made over 10,000 face masks, serving over 64 local organizations (listed below). This included rehabilitation centers, nursing homes, senior living complexes, ambulance companies, social service organizations, physician offices, and others. In addition, approximately 2,000 masks were also given to friends, family, and individuals who needed them, including a Navajo reservation. As of May 21, there were more than 1250 masks dropped off at the FUMC site alone!
| | |
| --- | --- |
| Albany Medical Center- Accounts Payable | Albany |
| Avila Retirement Community | Albany |
| Bethesda House | Schenectady |
| Better Health of NorthEast New York | Gloversville |
| Better Health of NorthEast NewYork | Gloversville |
| Capital District Food Pantry | Albany |
| Center for Nursing and Rehab | Hoosick Falls |
| Center for the disabled | Albany |
| Clifton Park Senior Center | Clifton Park |
| Coburg Village Independ Living Retirement Community | Rexford |
| Cocoa House | Schenectady |
| Community Care Physicians- troy branch | Troy |
| Community Hospice | Rensselaer |
| Conifer Park | Schenectady |
| Double H Ranch | Lake Luzern |
| Dr Rahman | Albany |
| Dutchess County Hospital | Dutchess County |
| Ellenville Community Hospital | |
| Four Winds | Saratoga Springs |
| Hannaford Pharmacy Dept | Schenectady |
| Heritage Home for Women | Schenectady |
| Home Instead Senior Care | Schenectady |
| Home of The Good Shepherd | Saratoga Springs |
| HOPE House | Albany |
| HOPE House- Other Locations | Albany |
| Josephs House | Troy |
| Judson Meadows Assisted Living | Scotia |
| Kingsway Community | Schenectady |
| Ladies of Charity- Carol Sirincione | |
| Lefebzre Chiropractors | Waterford |
| Lexington Community House | Albany |
| Literacy Volunteers of Rensselaer County | |
| Loretta critical nurse | ? |
| Midge Consler- Nursing Service / Home | Syracuse |
| Mohawk Ambulance | Schenectady |
| Nathan Litauer | Gloversville |
| Niskayuna Co-Op | Niskayuna |
| North East Parent and Child / Northern Rivers | Albany |
| Northern Rivers | Schenectady |
| Oakwood Community Center | Troy |
| Planned Parenthood | Albany |
| Podiatry Associates | ? |
| Prestwick Chase | Saratoga Springs |
| Proctors | Schenectady |
| RASP (Ganesvoort) | Ganesvoort |
| Refugee Group | ? |
| Schenectady ARC | Schenectady |
| Schenectady City Missions | Schenectady |
| Schenectady County Office for Child and Fam | Schenectady |
| Schenectady Foundation | Schenectady |
| Schenectady Inner City Ministry Food Pantry | Schenectady |
| ST Luke's Food Pantry | Schenectady |
| St Peters Hospital (Nurse) | Albany |
| St. Peters Hospital | Albany |
| St. Vincent's Food Pantry | Schenectady |
| Teresian House | Albany |
| The Charlton School | Burnt Hills |
| The Wesley Community | Saratoga Springs |
| Town of Greenburgh Paramedics | N. Greenbush |
| Transitional Services | Unknown |
| Wellspring Domestic Violence | Saratoga Springs |
| Westview Senior Center | Albany |
| Wildwood Programs | Schenectady |
| Glendale Nursing Home | Schenectady |
Our efforts have not been isolated to just QUILTSchenectady and First UMC. Many sewers responded to the need for masks simultaneously. It is difficult to quantify all that has been done. However, QUILTSchenectady has
coordinated with the following groups to make and distribute well over 30,000 masks: Quilters of the Gloversville/Johnstown/Amsterdam area (coordinated by Diana Marshall of the Gloversville Sewing Center), and The Mooncatcher Project (coordinated by Elle Von Wellsheim).
These masks are washable and reusable. When wearing them is no longer necessary, the masks should be washed and saved for any future unfortunate outbreak. Please make sure you urge friends and family to do the same.
Thanks go out to all who created masks. Thanks go out to Eileen Deming and Jan Huston for proposing this opportunity to help our community, and also to Linda Smith for securing the drop-box each day.
If you feel moved to make a donation to help offset the $1,800 spent on the elastic that was ordered and given to all who needed it, please send it to the Guild's Treasurer:
Maryann McDermott
177 Chepstow Road,
Schenectady, NY 12303

Children's Time
Passing the Peace
If you are worshiping with others, please pass the Peace of Christ. Whether you are alone or with others, please take a moment to find God's peace within, and then to share it with the world. This may take several breaths or moments, it is OK to wait. Sharing might work well this way: think of a dearly beloved with whom to share the peace, then think of other beloveds, then of friends, then acquaintances, then those who frustrate you, then those you don't really know, then those you don't know at all. In this way, God's peace (wholistic well-being) is spread to all.
Please note you can also share the peace online through our Facebook page, or yours

Hymn #707: Hymn of Promise
Scripture Reading: Acts 2:1-3,42-43
Sermon – "Together… Really?" – Rev. Ray Stees
Responding
Offering

If you wish, you are welcome to use this time to make a donation to the church online, or to put a check in the mail.
The time of offering is not only about our financial gifts to the church, it is about offering our lives to God and the building of the kindom. This is a time for reflection: What is being asked of us? What is being given to us? What are we able to offer? What do we need?
Offertory Anthem
"Spirit, Open My Heart" by Alfred V. Fedak

Prayer of Presentation – From a previous UMC Hymnal
We give thee but thine own, what e'er the gift may be;
All that we have is thine alone, a trust, o Lord, from thee.
Hymn #732: Come, We That Love the Lord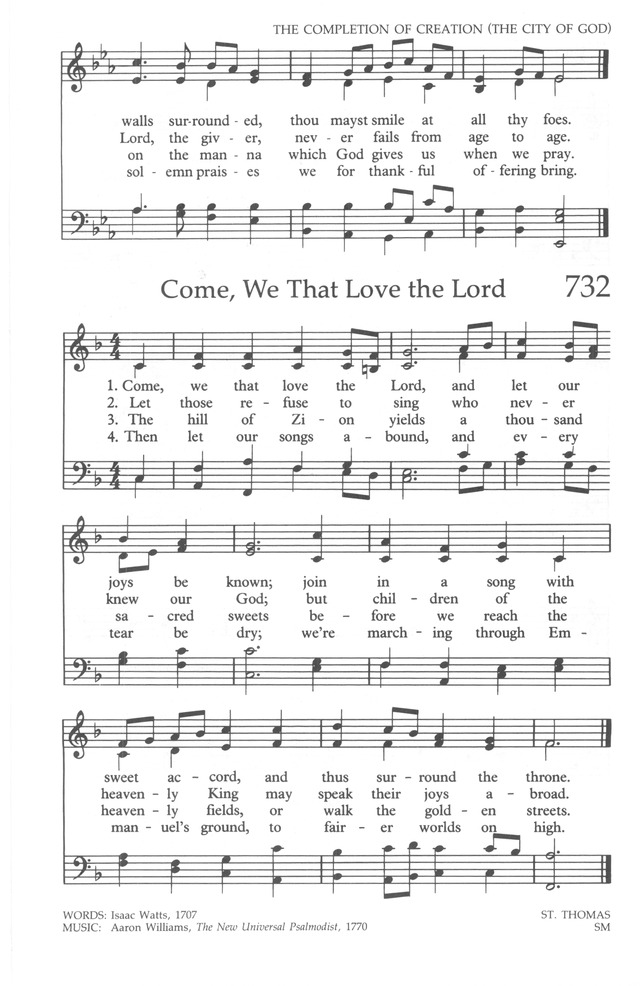 Benediction
We leave this time of worship with the Peace of Christ.
Peace in our body, Peace in our soul, Peace in our spirit, and Peace to be whole.
Postlude
"The Heavens Declare the Glory of God" by Benedetto Marcello
Performed by Dominick Giaquinto, Organ