First United Methodist Church of Schenectady
Worship for Thanksgiving Sunday
November 22, 2020

Photo by Zach Long
Getting Centered
It may help to center yourself into worship by lighting a candle, as a symbol of God's presence with you during the time of worship. You may also want to pay attention to lighting, the position of your body, and the availability of distractions.
Breath Prayer
"Holy One, we give you thanks."
Breath prayers involve breathing in the first phrase, and breathing out the second.
You may wish to simply pray for a moment before starting, or you may wish to pray while listening to the prelude.
Prelude
"Trumpet Tune" (Homage to the 18th Century) by David N. Johnson


Call to Worship
One: Give thanks with a grateful heart.
Many: When we can we will.
One: Give thanks with a heavy heart.
Many: When we can we will.
One: Know that God is with you.
Many: Thanks be to God.
Hymn #131: We Gather Together

Connecting in Prayer
Shared Prayer (from Allie Scott)

Holy One,
source of all good things in this world,
Let's be honest. It's 2020.
You've seen this year happen.
In a year of pandemic, and politics,
and isolation, and exhaustion,
We feel a lot more like saying,
"How long, O Lord?"
Instead of "in all things, give thanks."
Give us eyes to see your wonders, O God,
even in a year like this one.
Give us hearts that overflow with gratitude
for the ways we've made it through.
For binge-worthy shows and new crafting skills;
For fresh pots of coffee and surprise deliveries
of bread;
Fires to burn and rooms to paint;
Good Lord, we give you thanks.
For decent internet connection and love-to-hate-it Zoom;
For the ding of a text and long phone chargers;
For online shopping and unemployment checks;
Good Lord, we give you thanks.
For annoying pets and their insistence that we get outside;
For calls for justice so all can breathe;
For music and podcasts and good books to read;
Good Lord, we give you thanks.
For brilliant nurses and dedicated doctors;
For Pharmacists currently making miracles happen;
For family and community, even from far away;
Good Lord, we give you thanks.
For the miracle that we haven't disowned our children;
For the reminder that we're in this together;
And the reality that you are God and we are not;
Good Lord, we give you thanks.
Amen

Silent Prayer
Pastoral Prayer
You are welcome to read this out-loud or silently.
Holy One,
For those getting together this week, may they be safe.
For those staying apart this week, may they find ways to be connected.
As we watch the numbers rise, our broken hearts break further open.
We know the medical community is exhausted.
We know essential workers are underappreciated.
We know those who are alone are carrying heavy burdens of loneliness.
We know those who are balancing too much are near breaking.
We know far too many people are ill,
far too many people have died,
and far too many people are grieving.
Worse, people have to grieve alone.
Difficult decisions are being made,
plans are being readjusted,
and there is less light with every passing day.
Oh Holy One, what a time for Thanksgiving.
Bless our smaller and quieter tables.
Bless our sadness and our grief.
Bless the tiny little wonders that still give us life.
As we work through the struggles,
help us take enough time to offer our thanks,
and notice what there is to be grateful for.
Amen
The Lord's Prayer
Our Father who art in heaven,
Hallowed be thy name.
Thy kingdom come.
Thy will be done on earth, as it is in heaven.
Give us this day our daily bread.
And forgive us our trespasses,
as we forgive those who trespass against us.
And lead us not into temptation,
but deliver us from evil:
For thine is the kingdom, and the power,
and the glory, for ever. Amen.
Word and Reflection
Choir Anthem
Alleluia by Randall Thompson

Scripture: Deuteronomy 8:7-18
Mission Moment – Jan Huston
Alternative Giving – Church World Service Blanket Program


For many years, FUMC has supported the Church World Service (CWS) blanket program through our alternative giving at Christmas. For only $10.00 you can provide a warm, sturdy blanket to someone in need. Blankets go to people suffering from climate disasters, fires, displacement, low-income or other situations in which they might be cold. CWS has both lightweight and heavy blankets so that donations can be appropriate in each environment. Blankets are given within the US and also internationally wherever there is a need.


When I was in Arizona with the United Methodist Primetimers "Immigration Immersion" program, I saw CWS blankets in shelters for migrants both in Tucson and in Nogales, Mexico. (See photos.) Virgia has seen CWS blankets being used in Albany.
You can give to this program by writing a check to FUMC with "CWS blankets" in the notation or by donating on the church website. If you would like to give as an alternative gift in someone's honor and want a card to give to the person you are honoring, contact Linda at the church office.

Children's Time
Passing of the Peace
If you are worshiping with others, please pass the Peace of Christ.
Whether you are alone or with others, please take a moment to find God's peace within, and then to share it with the world. You may want to reach out to speak peace to another during this week.
Hymn: We Are Gathered – Amanda Udis-Kessle
Scripture Reading – Luke 17:11-19
Sermon – "Giving Thanks – 2020 Style" – Rev. Sara Baron
Responding
Offering

Photo by Alice Nash
If you wish, you are welcome to use this time to make a donation to the church online, or to put a check in the mail.
The time of offering is not only about our financial gifts to the church, it is about offering our lives to God and the building of the kindom. This is a time for reflection: What is being asked of us? What is being given to us? What are we able to offer? What do we need?
Offertory Anthem: Now Thank We All Our God by Johann Sebastian Bach
Stewardship
Our Stewardship light is different in all of us.
We give how we can with our hearts
Prayer of Presentation
Holy One,
This week as we bring our attention to our gratitude,
we are able to attend to the multitude of gifts you have given us.
It is overwhelming.
With our offerings to this faith community,
and to your beautiful world,
we embody our gratitude to you.
May your love, peace, joy, and wisdom
bless all that we give,
and make it useful for the building of the
kindom.
Amen
Hymn #62: All Creatures of Our God and King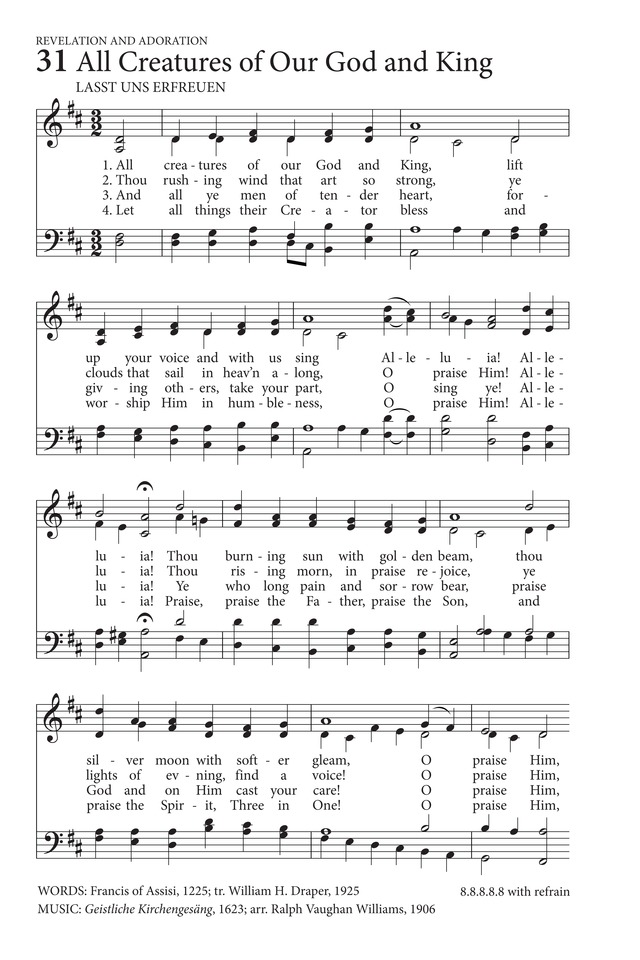 Benediction
As you go from this time of worship,
into this week of gratitude,
may you be aware of God's presence with you,
and the many gifts of love that surround you. Amen
Postlude
"Now Thanks We All Our God" by Michael Burkhardt