First United Methodist Church of Schenectady
Worship for the Twelfth Sunday after Pentecost
August 23, 2020

2020 Photo from Dominick Giaquinto
Getting Centered
It may help to center yourself into worship by lighting a candle, as a symbol of God's presence with you during the time of worship. You may also want to pay attention to lighting, the position of your body, and the availability of distractions.
Breath Prayer
"Holiness / we seek your grace"
Breath prayers involve breathing in the first phrase, and breathing out the second.
You may wish to simply pray for a moment before starting, or you may wish to pray while listening to the prelude.
Prelude
"Highland Cathedral" by Charles Callahan


Call to Worship
One: The Spirit of God gives many gifts.
Many: We have been blessed with the Spirit's gifts.
One: The gifts look and sound different,
Many: yet come from the same source.
One: We seek to savor these gifts,
Many: and express our gratitude for them.
Hymn #92: For the Beauty of the Earth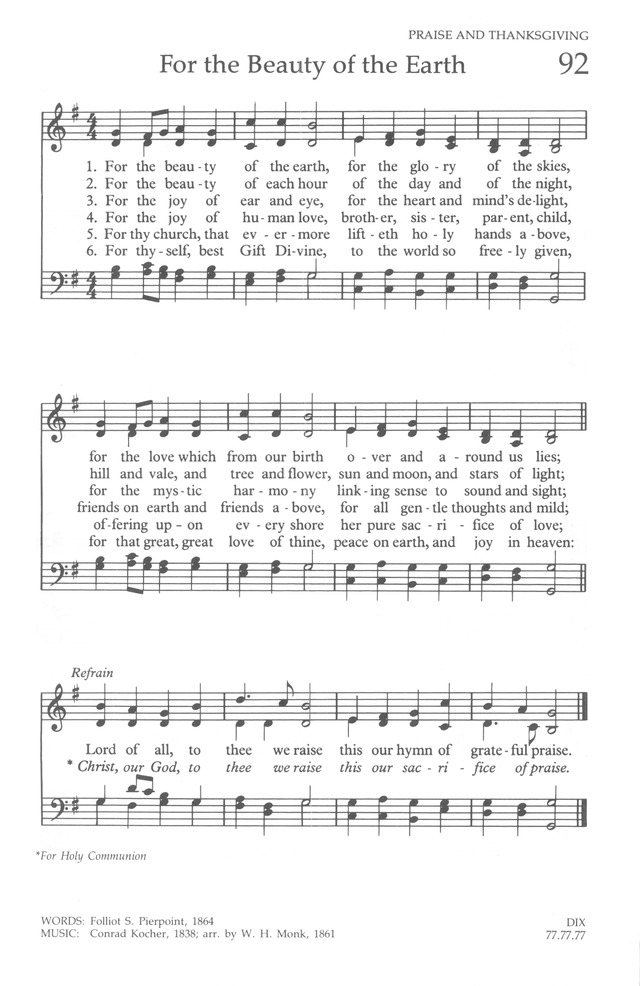 Connecting in Prayer
Shared Prayer
Spirit of Grace,
May we savor your goodness,
and soak up your love.
We wish to be living grace,
and we know you are the source of such capacity.
Amen

Silent Prayer
Pastoral Prayer
You are welcome to read this out-loud or silently.
Spirit of Grace,
We struggle with grief because we are humans and there are those we have loved, and lost. There are also experiences and identities we have loved, and lost. Be with us as we grieve. May all who are grieving feel your support and experience your compassion.
May all who need healing be able to receive it from you and from caring people. We are amazed at the wonders of life and its vivacity. Thank you for the little and big things that bring life and joy. Help us savor them.
Amen
The Lord's Prayer
Our Father who art in heaven,
Hallowed be thy name.
Thy kingdom come.
Thy will be done on earth, as it is in heaven.
Give us this day our daily bread.
And forgive us our trespasses,
as we forgive those who trespass against us.
And lead us not into temptation,
but deliver us from evil:
For thine is the kingdom, and the power,
and the glory, for ever. Amen.
Word and Reflection
Choir Anthem
O Sacrum Convivium – James Biery

O Christ, come and dwell within, through this sacred mystery.
We celebrate the memory of your holy Passion.
Jesus' love enfolds our hearts
We receive your covenant of eternal glory! Alleluia
Scripture – Romans 12:1-8
Mission Moment – Jan Huston
"Dehumanizing people debases us all"
Jimmy Carter releases statement on George Floyd protests
(Please consider contributing a mission moment. It can be an experience, a poem, something meaningful that you recently learned, a brief book review, an insight, or maybe something else. Send your idea to me – Jan Huston.)



Axios (online) June 3, 2020 Paul Hennessy/NurPhoto via Getty Images
Former President Jimmy Carter released a statement on Wednesday describing himself and his wife as "pained by the tragic racial injustices and consequent backlash across our nation in recent weeks."
Why it matters: All living American presidents have now officially weighed in on the civil unrest rattling the nation.
Former President George Bush W. Bush released his statement on the ongoing protests Tuesday, saying it is "time for America to examine our tragic failures."
Former President Bill Clinton said on Saturday that Americans "need to see each other as equally deserving of life, liberty, respect, dignity, and the presumption of innocence," and called on people to ask themselves a set of "hard questions."
Former President Obama said last week that events like George Floyd's death "shouldn't be 'normal' in 2020 America," and plans to host a virtual town hall on the topic on Wednesday evening.
Of note: Carter did not mention Floyd by name, instead focusing on "the victims' families and all who feel hopeless in the face of pervasive racial discrimination and outright cruelty."
Carter's full statement:
"Rosalynn and I are pained by the tragic racial injustices and consequent backlash across our nation in recent weeks. Our hearts are with the victims' families and all who feel hopeless in the face of pervasive racial discrimination and outright cruelty. We all must shine a spotlight on the immorality of racial discrimination. But violence, whether spontaneous or consciously incited, is not a solution. "As a white male of the South, I know all too well the impact of segregation and injustice to African Americans. As a politician, I felt a responsibility to bring equity to my
state and our country. In my 1974 inaugural address as Georgia's governor, I said: "The time for racial discrimination is over." With great sorrow and disappointment, I repeat those words today, nearly five decades later. Dehumanizing people debases us all; humanity is beautifully and almost infinitely diverse. The bonds of our common humanity must overcome the divisiveness of our fears and prejudices.
"Since leaving the White House in 1981, Rosalynn and I have strived to advance human rights in countries around the world. In this quest, we have seen that silence can be as deadly as violence. People of power, privilege, and moral conscience must stand up and say "no more" to a racially discriminatory police and justice system, immoral economic disparities between whites and blacks, and government actions that undermine our unified democracy. We are responsible for creating a world of peace
and equality for ourselves and future generations.
We need a government as good as its people, and we are better than this."
Children's Time
Passing of the Peace
If you are worshiping with others, please pass the Peace of Christ.
Whether you are alone or with others, please take a moment to find God's peace within, and then to share it with the world. You may want to reach out to speak peace to another during this week.
Hymn #114: Many Gifts, One Spirit by Al Carmines

God of change and glory, God of time and space,
When we fear the future, give to us your grace.
In the midst of changing ways give us still the grace to praise.
Refrain:
Many gifts, one Spirit, one love known in many ways.
In our difference is blessing, from diversity we praise
One Giver, one Lord, one Spirit, one Word
Known in many ways, hallowing our days.
For the Giver, for the gifts, praise, praise, praise!
God of many colors, God of many signs,
You have made us different, blessing many kinds.
As the old ways disappear, let your love cast out our fear.
Freshness of the morning, newness of each night,
You are still creating endless love and light.
This we see, as shadows part, many gifts from one great heart.
Scripture Reading: Matthew 16:13-20
Sermon – "Rock" – Rev. Sara E. Baron

Questions for Reflection:
Where do you most tend to try to prove your worth?
What most effectively reminds you that you are already beloved of God, as you?
What parts of kindom building bring you joy?
How does it feel to be reminded that Peter was imperfect and still of value?
What would it look like in your life to allow yourself a bit more grace to love LESS arduously?
Responding
Offering

2017 Photo Show – "Prayers, Presence Gifts, Service, Witness" by Larry McArthur
If you wish, you are welcome to use this time to make a donation to the church online, or to put a check in the mail.
The time of offering is not only about our financial gifts to the church, it is about offering our lives to God and the building of the kindom. This is a time for reflection: What is being asked of us? What is being given to us? What are we able to offer? What do we need?
Offertory Anthem
"Simple Gifts" – Traditional
Yo Yo Ma – Cello
Alison Krauss – Soprano

Prayer of Presentation
Spirit of Grace,
As we live our lives,
as we see what you are up to,
we are amazed.
The gifts we have received astound us.
May the gifts we give be blessed to be blessings as profound as what we have received.
Amen
Hymn #2153: I'm Gonna Live So God Can Use Me

Benediction
May you find ways to soak up God's love, share your gifts, and build the kindom.
Amen
Postlude
"Rejoicing in D Major" by Stephen H. Best
Dominick Giaquinto – Organ