First United Methodist Church of Schenectady
Worship for the Third Sunday of Advent
December 13, 2020

Photo by Sue Learner
Getting Centered
It may help to center yourself into worship by lighting a candle, as a symbol of God's presence with you during the time of worship. You may also want to pay attention to lighting, the position of your body, and the availability of distractions.
Breath Prayer
"Joy of our hearts, come alive in us."
Breath prayers involve breathing in the first phrase, and breathing out the second.
You may wish to simply pray for a moment before starting, or you may wish to pray while listening to the prelude.
Prelude
"Pastorale on "Wake, Awake, For Night is Flying" by Wayne Wold

Call to Worship
One: The Spirit of the God is with us.
Many: We are sent by God to bring good news to the oppressed,
One: to bind up the brokenhearted,
Many: to proclaim liberty to the captives,
One: to proclaim release to the prisoners,
Many: to comfort all who mourn,
One: to proclaim God,
Many: and to speak that God is good.

Hymn #206: I Want to Walk as a Child of the Light
Lighting of the Advent Wreath

Photo by Alice Nash
Connecting in Prayer
Shared Prayer

Joy of Our Hearts,
Your passionate love for all of creation is the source of our joy.
Your continued work to care for all,
in us and in many, brings us hope.
Your gift of peace makes our work with you possible.
May we see and savor all the joy around us,
soak it in,
and share it!
Amen

Silent Prayer
Pastoral Prayer
You are welcome to read this out-loud or silently.
Joy of our Hearts,
In these December days, we notice the difference a sunny day makes in our hearts. Our whole beings take note when the sun shines, and it is easier to see the joy. As snow flurries dance around us, we see the beauty in shapes and outlines, and are reminded of the impact small flakes have on the whole landscape.
In these December days, we notice the early sunsets, the long evenings, and the cloudy days. Sometimes the darkness is
a beautiful backdrop for twinkling lights, sometimes the darkness is a soft and gentle cradle for our grief and anger,
sometimes the darkness is heavy, oppressive and exhausting. Just about everything can be exhausting right now.
In these days with illness and grief swirling around us, intermingled with anxiety and fear, there is a temptation to lose sight of joy, and yet into this moment comes this Sunday of Joy.
So, dear Source of Joy, guide us to notice all the gifts around us. Help us to see wonder and delight.
Show us how to savor goodness and joy. May gratitude for all that is good be our mantra this week, and may we notice the ways you are moving us towards healing and life.
Amen
The Lord's Prayer
Our Father who art in heaven,
Hallowed be thy name.
Thy kingdom come.
Thy will be done on earth, as it is in heaven.
Give us this day our daily bread.
And forgive us our trespasses,
as we forgive those who trespass against us.
And lead us not into temptation,
but deliver us from evil:
For thine is the kingdom, and the power,
and the glory, for ever. Amen.
Word and Reflection
Choir Anthem
Carol for Advent by Don Besig/Nancy Price

Scripture: Isaiah 61:1-4,8-11
Mission Moment
Alternative Giving – Heifer International


Heifer International began in 1944 when a farmer in Indiana understood that it would be more effective to rebuild countries after World War II by donating animals than by sending milk. A family was given a heifer, a goat, or another animal along with education about how to take care of the animal. Then the recipient was expected to give away an
offspring of that animal. So Heifer Project was known for the "gift that multiplies."


Their current mission statement is: "We work to end hunger and poverty in partnership with the communities we serve. Our programs support entrepreneurs around the world, creating lasting change from the ground up. It begins with a seed investment of livestock or agriculture, followed by mentorship to help project participants build a business, and ultimately to gain access to supply chains and markets. These families are able to earn a living income and continuously lift up their communities as they train the next generation of leaders. By supporting and training the world's farmers, ranchers, and female business owners, we're investing in a new breed of success."
Their projects are worldwide and include empowerment of women farmers in Nepal and Guatemala, dairy development in East Africa, and support of farmers' cooperatives in Arkansas. The website, heifer.org, highlights many more projects and is very interesting.


Alternative gifts can be given by donating through the church online or with a check made out to FUMC with Heifer in the notation. Or it is more fun to go to Heifer's website and click "gift catalog." Then you can choose an animal, bees, seeds or other product, which you are giving in honor of someone. My brother-in-law was really pleased when we
gave a water buffalo in his honor! And I "received" a flock of chicks one year. If you give this way, you will be able to create an honor card so that the person you are honoring will know of your gift.
Children's Time
Passing of the Peace
If you are worshiping with others, please pass the Peace of Christ.
Whether you are alone or with others, please take a moment to find God's peace within, and then to share it with the world. You may want to reach out to speak peace to another during this week.

Hymn #211: O Come, O Come, Emmanuel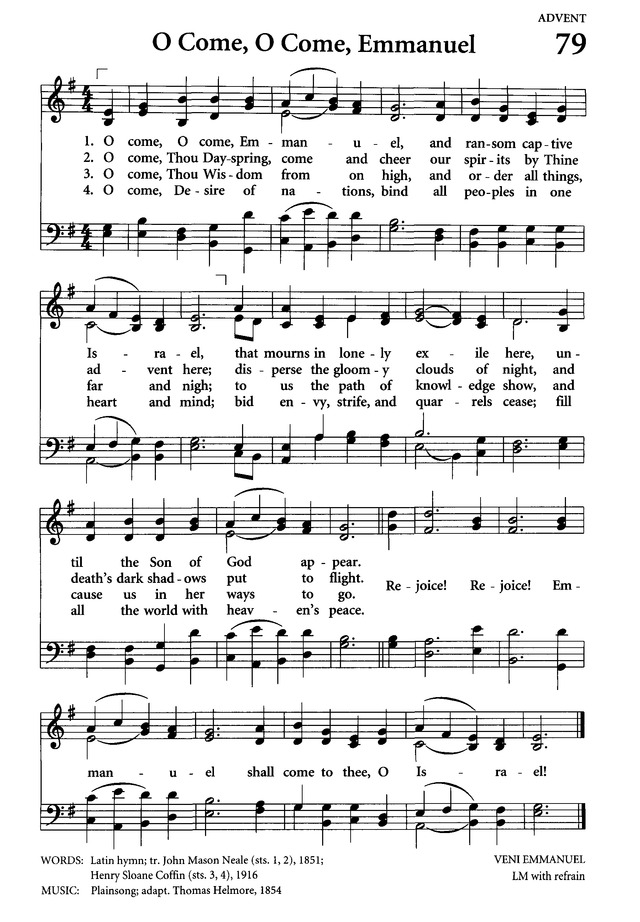 Scripture Reading – Luke 1:46b-55
Sermon – Rev. Sara Baron
Responding
Offering

Photo by Alice Nash
If you wish, you are welcome to use this time to make a donation to the church online, or to put a check in the mail.
The time of offering is not only about our financial gifts to the church, it is about offering our lives to God and the building of the kindom. This is a time for reflection: What is being asked of us? What is being given to us? What are we able to offer? What do we need?
Offertory Anthem: Thou Shalt Know Him When He Comes by Mark G. Sirett
Prayer of Presentation
Joy of Our Hearts,
What amazing gifts you have given to us. What a joy it is to share your abundant love with your creation! May our gifts of hope, peace, and joy be useful in the building of your kindom.
Amen
Hymn #216: Lo, How a Rose E'er Blooming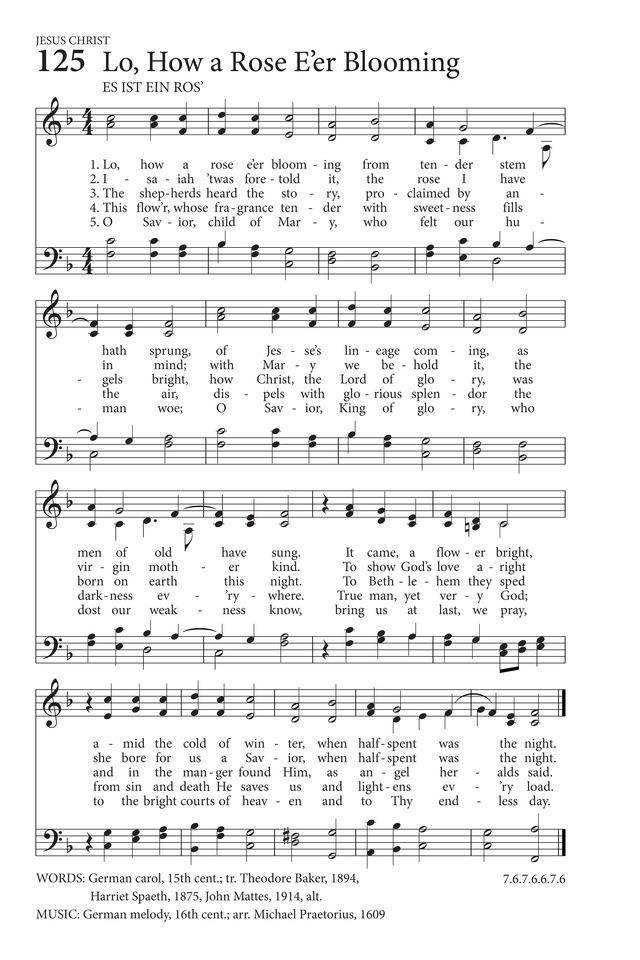 Benediction
May God's joy find you in unexpected moments, and bring you delight. Amen
Postlude
"Peal con Brio" by Karen Thompson