First United Methodist Church of Schenectady
Worship for Third Sunday After Epiphany
January 24, 2021

Photo by Zach Long
Getting Centered
It may help to center yourself into worship by lighting a candle, as a symbol of God's presence with you during the time of worship. You may also want to pay attention to lighting, the position of your body, and the availability of distractions.
Breath Prayer
"I trust in God / my rock and my refuge."
Breath prayers involve breathing in the first phrase, and breathing out the second.
You may wish to simply pray for a moment before starting, or you may wish to pray while listening to the prelude.
Prelude
"Aria" by Paul Manz

Call to Worship
One: For God alone we wait.
Many: God is our rock.
One: For God we wait in word and in silence.
Many: God is our refuge.
One: God alone is our hope.
Many: God is our fortress.
One: Because of God we cannot be shaken.
Many: God is our salvation.

Hymn #344: Lord, You Have Come to the Lakeshore
Connecting in Prayer
Shared Prayer

Our Rock and Our Salvation,
You are our anchor,
our healer,
our hope.
Some among us are inspired, delighted, hope-filled.
Some among us are hesitant, worried, unsure.
Many of us are all of the above.
We want to be a part of building the kindom,
but we aren't quite sure what this moment asks of us.
Guide us, Holy One.
Show us how to rely on you,
and each other,
so we can be sources of healing and hope too.
Amen

Silent Prayer
Pastoral Prayer and "Grown Up's Time"
You are welcome to read this out-loud or silently.
Safe Fortress,
We humans spend so much of our time seeking safe harbors.
They're necessary for us.
We need food, clothing, and shelter,
and we need them to be safe to access.
We are, after all, mortal beings with needs.
Sometimes our need for safety can become an impediment,
when it requires us to seek more than we need,
when it encourages us to lock others out,
when it prevents us from going where we need to go.
In these days, we think about safety a lot.
We consider it in every action we take,
thinking about how what we do takes care of ourselves and each other.
We consider it as we make sense of the attack on our Capitol.
It can be exhausting.
Help us remember to lean back on you,
to remember that you are our rock, our refuge, our fortress.
Remind us again that because you are our safe place,
we can let go of excessive needs for unnecessary safety.
And remind us again that because you are our safe place,
we can do the hard work of isolation,
to be safe places for our communities.
Help us find balance,
help us find safety,
help us find good paths forward.
Amen
The Lord's Prayer
Our Father who art in heaven,
Hallowed be thy name.
Thy kingdom come.
Thy will be done on earth, as it is in heaven.
Give us this day our daily bread.
And forgive us our trespasses,
as we forgive those who trespass against us.
And lead us not into temptation,
but deliver us from evil:
For thine is the kingdom, and the power,
and the glory, for ever. Amen.
Word and Reflection
Choir Anthem
Longing for Light, We Wait in Darkness by Bernadette Farrell

Scripture: Psalm 62:5-12
Mission Moment
A Poem shared by Jan Huston
"The Peace of Wild Things" by Wendell Berry
When despair for the world grows in me
And I wake in the night at the least sound
in fear of what my life and my children's lives may be,
I go and lie down where the wood drake
Rests in his beauty on the water and the great heron feeds.
I come into the peace of wild things
Who do not tax their lives with forethought
of grief. I come into the presence of still water.
And I feel above me the day-blind stars
waiting their light. For a time
I rest in the grace of the world, and am free

We are all feeling stressed. Hopefully, most of us have found some ways to relieve it. Getting outdoors, with or without friends, can relieve anxiety for many. We are very fortunate living in this area where there are so many opportunities to experience nature. We can make day trips to the Adirondacks, Catskills, Vermont or the Berkshires (depending on Covid restrictions). Or we can stay close to home and just enjoy an hour or 2 outside. Some local sites and sources for more information are:
Schenectady's Central Park
Vischer Ferry Preserve
Schenectady County Forest Preserve
Wilton Wildlife Nature Preserve
Thacher Park
FUMC's monthly outings sponsored by our Children and Youth Ministry Team
There are many more! If you have a place you would like to share as a mission moment, please let me know

Children's Time
Passing of the Peace
If you are worshiping with others, please pass the Peace of Christ.
Whether you are alone or with others, please take a moment to find God's peace within, and then to share it with the world. You may want to reach out to speak peace to another during this week.

Hymn #508: Faith, While Trees Are Still in Blossom
Scripture Reading – Mark 1:14-20
Sermon: "What Did They See?" by Rev. Sara Baron
Responding
Offering

Photo by Alice Nash
If you wish, you are welcome to use this time to make a donation to the church online, or to put a check in the mail.
The time of offering is not only about our financial gifts to the church, it is about offering our lives to God and the building of the kindom. This is a time for reflection: What is being asked of us? What is being given to us? What are we able to offer? What do we need?
Offertory Anthem: In Thee Is Gladness by David Cherwien
Prayer of Presentation
God in Whom We Trust,
We respond to your calls, trusting you to be with us on our way.
As we offer to you our time, our talents, and our gifts,
may they be blessed,
and may all that we offer be used wisely,
for the building of your kindom.
Amen
Hymn #733: Marching to Zion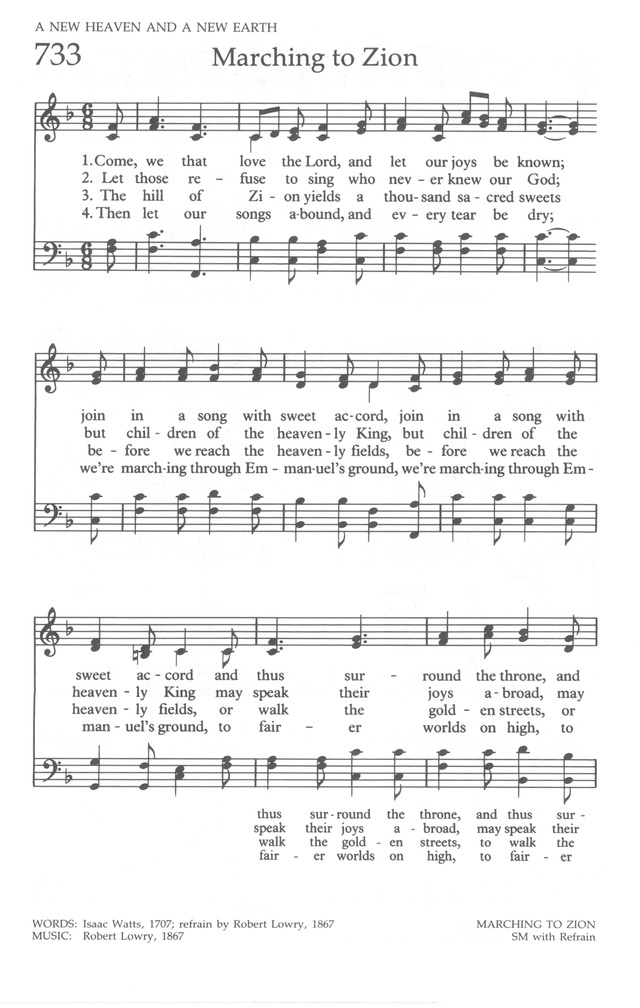 Benediction
May God who is our rock our refuge, our shelter, our fortress, and our salvation, guide you through, call you out, and show you the way. Amen
Postlude
"Processional in D Major" by David N. Johnson