First United Methodist Church of Schenectady
Worship for Fifth Sunday After Epiphany
February 7, 2021

Photo by Zach Long
Getting Centered
It may help to center yourself into worship by lighting a candle, as a symbol of God's presence with you during the time of worship. You may also want to pay attention to lighting, the position of your body, and the availability of distractions.
Breath Prayer
"God of every day, may I notice you today"
Breath prayers involve breathing in the first phrase, and breathing out the second.
You may wish to simply pray for a moment before starting, or you may wish to pray while listening to the prelude.
Prelude
"Ich ruf' zu dir, Herr Jesu Christ/I Call to You, Jesus Christ" by Johann Sebastian Bach

Call to Worship
One: What do we know of God?
Many: God is a torrent of love!
One: But the world is still broken!
Many: God is a torrent of love!
One: Perhaps the love is just blocked?
Many: God is a torrent of love!
One: Then our work should be to be the unblockers.
Many: God is a torrent of love!

Hymn #534: Be Still, My Soul
Connecting in Prayer
Shared Prayer

God of Every Day,
You are holiness saturating the ordinary.
You are the ground of all being,
and you are love.
When snowflakes glisten, and our eyes are drawn to wonder,
we notice how amazing this world is.
When children squeal with glee, and our ears are filled with delight,
we notice how amazing this world is.
When the noise of traffic quiets, and we hear the wind playing,
we notice how amazing this world is.
Help us see, hear, and attend to the wonder of your sacred presence,
in our every day.
Amen

Silent Prayer
Pastoral Prayer
You are welcome to read this out-loud or silently.
God of Today,
God of Every Day,
God of the Eternal, and the momentary,
Help us see the wonder of today, and savor its goodness.
Help us see the brokenness of today, and attend to the needs for healing.
Help us stay present to this moment, and yet keep in mind the long-view needed for kindom building.
Help us see.
God of ordinary people, remind us of the wonder and love of the people we know, and help us remember to reach out in love to your people.
Help us find ever more ways to soak in your love, and share it.
Remind us, again and again, of the ways you give us to rest, be refreshed, and find joy in life. We somehow forget far too often.
Help us be people who can hold people up in sorrow, in grief, and in dismay.
We know those people are needed.
Help us be people who find peace, joy, and hope, and can share them.
Amen

The Lord's Prayer
Our Father who art in heaven,
Hallowed be thy name.
Thy kingdom come.
Thy will be done on earth, as it is in heaven.
Give us this day our daily bread.
And forgive us our trespasses,
as we forgive those who trespass against us.
And lead us not into temptation,
but deliver us from evil:
For thine is the kingdom, and the power,
and the glory, for ever. Amen.
Word and Reflection
Choir Anthem
There is a Balm in Gilead by Ken Burton

Scripture: Isaiah 40:21-31
Mission Moment – Jan Huston
Souper Bowl Sunday
Today is Souper Bowl Sunday! Most years on this day our church children carry "soup" cans and ask us to put donations in the cans. Many people in more normal years enjoy Super Bowl parties which include lots of food. The hope is that some of the money spent on party food might instead be donated to those who are hungry.
Schenectady Community Ministries coordinates this collection. 100% of the money raised goes to help the SiCM Food Pantry feed those who are insecure in Schenectady County. Their goal is $15,000. In 2020, SiCM served 300 families per week and a total of 454,000 meals!


This year we aren't able to put money into cans held by our smiling, eager children. But the need is greater than ever because of the pandemic. You can give directly to SiCM at https://sicm.salsalabs.org/SouperBowl21/index.html. Or you can give by sending a check to FUMC with "Souper Bowl" or "SiCM" in the notation. Or you can go to the church website and donate online there.

Children's Time
Passing of the Peace
If you are worshiping with others, please pass the Peace of Christ.
Whether you are alone or with others, please take a moment to find God's peace within, and then to share it with the world. You may want to reach out to speak peace to another during this week.

Hymn #110: A Mighty Fortress
Scripture Reading – Mark 1:29-39
Sermon: "Sacred + Ordinary" by Rev. Sara Baron
Responding
Offering

Photo by Alice Nash
If you wish, you are welcome to use this time to make a donation to the church online, or to put a check in the mail.
The time of offering is not only about our financial gifts to the church, it is about offering our lives to God and the building of the kindom. This is a time for reflection: What is being asked of us? What is being given to us? What are we able to offer? What do we need?
Offertory Anthem: "Sing to the Lord a New Song" by Franz Joseph Haydn arr. Hal Hopson
Prayer of Presentation
God of Every Day, with the gifts we give in the world, we seek to expand your loving expressions in the world. With the gift we give to the church, we seek to support your work in this community. With our lives, we seek to build your kindom. Guide us, our lives, our gifts, and their use. Amen

Hymn #126: Sing Praise to God Who Reigns Above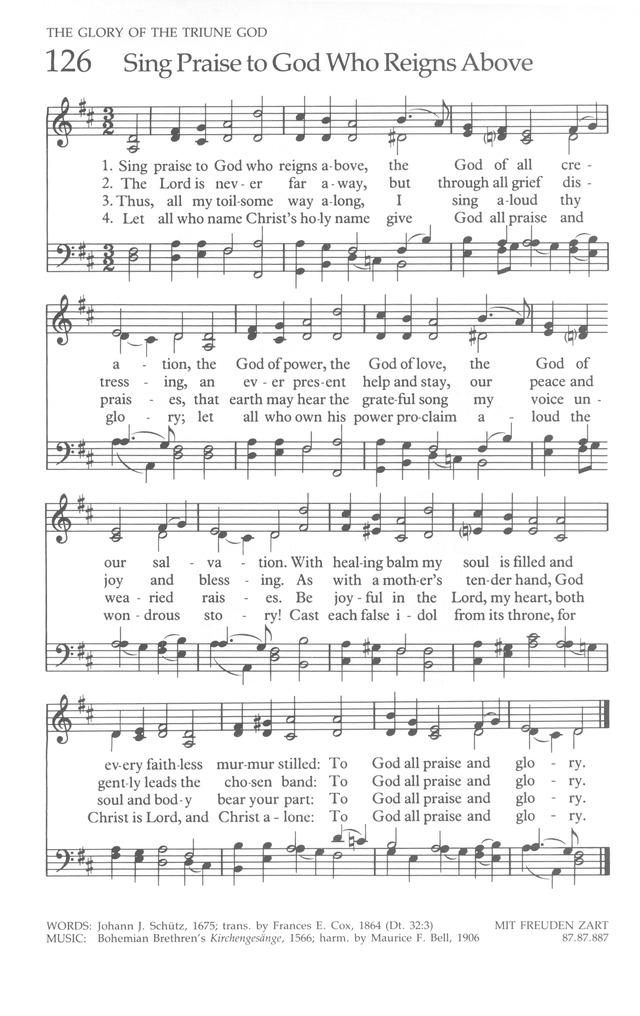 Benediction
May you notice the world around you saturated with the love of God, just as you are! Amen
Postlude
"Toccata in e minor" by Johann Pachelbel