First United Methodist Church of Schenectady
Worship for the Fifth Sunday in Lent
March 21, 2021

Photo by Sue Learner
Getting Centered
It may help to center yourself into worship by lighting a candle, as a symbol of God's presence with you during the time of worship. You may also want to pay attention to lighting, the position of your body, and the availability of distractions.
Breath Prayer
"Bread of Life, we seek your nourishment."
Breath prayers involve breathing in the first phrase, and breathing out the second.
You may wish to simply pray for a moment before starting, or you may wish to pray while listening to the prelude.
Prelude
"O Sacred Head, Now Wounded" by Michael Burkhardt

Call to Worship
One: The days are surely coming, says God.
Many: The days are coming when new life will emerge.
One: The days are coming when we will gather together.
Many: The days are coming when all will know God.
One: The days are coming when hope will live.
Many: The days are coming, and we will be ready.

Hymn #420: Breathe on Me, Breath of God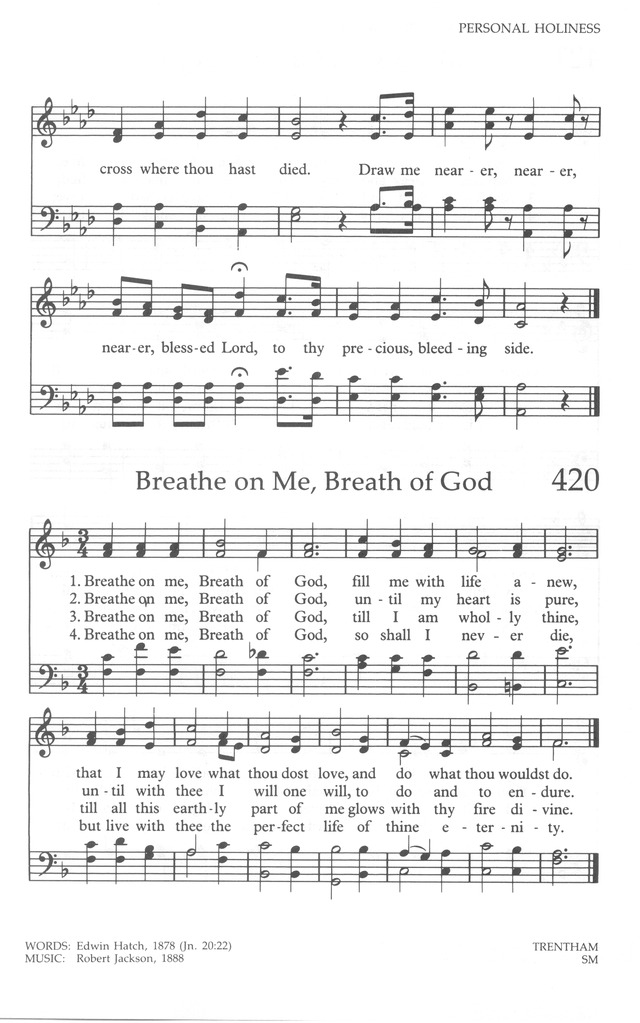 Connecting in Prayer
Shared Prayer

Bread of Life, Wine of Compassion,
You feed our spirits,
care for our bodies,
and take care of the whole.
You are the source of life,
and nurture,
and hope.
We are ready to be fed again
with your soul-food,
and be prepared for the journeys that come,
and the demands of grace.
Amen

Silent Prayer
Pastoral Prayer

Bread of Life,
You feed us.
You nourish us.
In doing so, we are moved towards wholeness.
In each step in our life further into grace,
we become more able to live your love in the
world,
and share it with all your people.
Along the way, we notice the suffering of your
beloveds,
and it moves our hearts,
and unsettles our guts.
Today we name the struggles of Amelia and young people with serious health concerns, of Paul and adults with serious health concerns, of Claudia and all those worried for their loved ones, of all who are grieving, of all who have lived
through sexual harassment and continue to struggle, and of those who receive the micro and macro aggressions of racism. May all those who struggle know your healing, your peace, and your support.
As we move deeper into love, we also move deeper into love with the earth and all its goodness, and your people and all their wonders.
Today we name the joys of getting vaccine shots and all the work that made that possible, the joy of healing, jobs that bring joy, opportunities to connect, good conversations, good books, grace and compassion, and of spring. We offer our gratitude for the work you and many did to make it possible to ease the lives of so many in poverty with new legislation, and we seek to work with you to continue to make new opportunities possible.
We seek your nourishment, loving God, and we seek to be your nourishment.
May it be so.
Amen

The Lord's Prayer
Our Father who art in heaven,
Hallowed be thy name.
Thy kingdom come.
Thy will be done on earth, as it is in heaven.
Give us this day our daily bread.
And forgive us our trespasses,
as we forgive those who trespass against us.
And lead us not into temptation,
but deliver us from evil:
For thine is the kingdom, and the power,
and the glory, for ever. Amen.
Word and Reflection
Choir Anthem
I Waited for the Lord by Felix Mendelssohn

Scripture: Jeremiah 31:31-34
Mission Moment – Virgia Phoenix
Water


World Water Day (March 22) is an annual observance sponsored by the United Nations. It was first observed in 1993. The theme for 2021 is: Valuing Water. The day will focus on what it means to people around the world to value water. Concerns such as water scarcity, pollution, supply, and water and climate change are features to be addressed with a variety of activities. Clean, fresh and safe drinking water and sanitation facilities impact a great part of the world population. The absence results in many health problems, deaths due to chronic diarrhea and many long-term complications especially in children.
The availability or lack of water is the most important humanitarian crisis that is being experienced in real time. With the big snowstorm in the South and Southwest and the failure of the Power Grid in Texas, the loss of water was a
critical example of unforeseen circumstances. We saw a gigantic reality that had been improperly attended for years.
When the Corona Virus invaded the world and made its debut in America, the issue of water exposed the vulnerability of a large segment of the population. This is especially true of underserved, impoverished and Native communities where there is a paucity of resources. Even though hand washing was always good advice, it was strongly advised as one means of mitigating the spread of the virus. However, the reality became clear how many people around the world did not have access to clean water. In some cases, no water at all.
Even though the most essential commodity of our existence is water and the USA is considered to be far advanced over other countries, the water problem is acute. For years, citizens have been advocating for safe and clean water to little avail. In fact, the infrastructure in some cities needs to be completely changed due to life threatening elements such as lead in the water delivery system. Others have issues with chemicals and pollution in the lakes, rivers and ground water (the sources of water for many communities.) These chemicals and pollutants were dumped by manufacturers of industrial and household products in common use today and some agricultural runoff.


Compassionate efforts have been made by benevolent institutions and individuals to improve the quality of life for vulnerable populations here and around the world. Some sponsor wells or systems that are life changing. The list is long and there is at least one to appeal to individual interest. The United Methodist Church through UMCOR is an important contributor to this effort. Many organizations sponsor water projects; among them are: Heifer International, Rotary International and the Navajo Water project-DigDeep. Prominent individuals have embraced the cause for clean water. Well-known personalities such as Matt Damon whose water.org is dedicated to supplying clean water in underserved areas of the world. Charitywater.org has received support from donors who appreciate its philosophy and organizational structure. African Reflections Foundation has been a visible presence in the Capital District. It promotes water projects in Tanzania through public events, art and apparel sales.
The extent to which water projects have proliferated around the world is indicative of the seriousness of the issue. As we approach World Water Day, many citizens in Jackson, Mississippi, are still waiting for water. You are invited to consider the many options that are personally appealing.
Children's Time
Passing of the Peace
If you are worshiping with others, please pass the Peace of Christ.
Whether you are alone or with others, please take a moment to find God's peace within, and then to share it with the world. You may want to reach out to speak peace to another during this week.
Hymn #618: Let Us Break Bread Together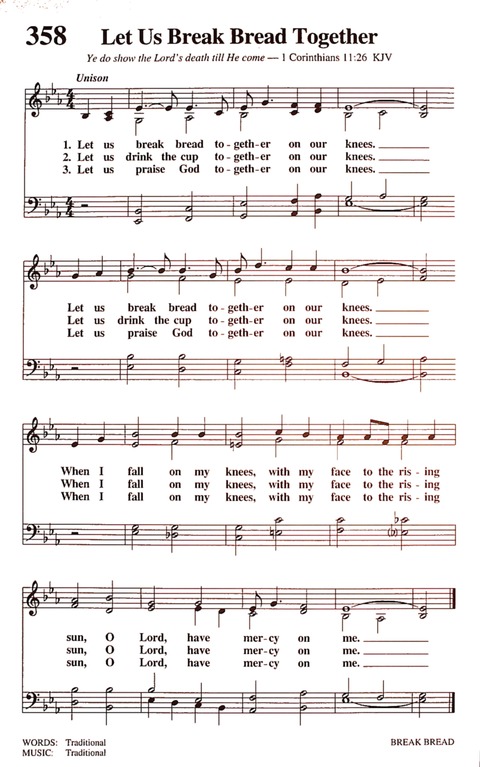 Scripture Reading – 1 Corinthians 11:17-34
Sermon: "God's Extended Table" by Rev. Sara Baron
Responding
Offering

Photo by Alice Nash
If you wish, you are welcome to use this time to make a donation to the church online, or to put a check in the mail.
The time of offering is not only about our financial gifts to the church, it is about offering our lives to God and the building of the kindom. This is a time for reflection: What is being asked of us? What is being given to us? What are we able to offer? What do we need?
Offertory Anthem: "Ave Verum" by Wolfgang Amadeus Mozart
Prayer of Presentation
One who feeds us,
In your name, we feed your beloveds.
In your name, we offer your grace.
In your name, we seek to live our lives to build the kindom.
May the gifts we give be blessed to be useful in your work.
Amen

Hymn #2255: In the Singing

Benediction
Dear ones who know God, may your lives make God visible to those who do not yet know the God of grace. Amen
Postlude
Aria from "Twelfth Concerto Grosso" by Georg Friedrich Handel