First United Methodist Church of Schenectady
Worship for Easter Sunday
April 4, 2021
Getting Centered
It may help to center yourself into worship by lighting a candle, as a symbol of God's presence with you during the time of worship. You may also want to pay attention to lighting, the position of your body, and the availability of distractions.
Breath Prayer
"Alleluia / A-le-lu-ia"
Breath prayers involve breathing in the first phrase, and breathing out the second.
You may wish to simply pray for a moment before starting, or you may wish to pray while listening to the prelude.
Prelude
Improvisation – Toccata on "The Strife Is O'er" by Alfred V. Fedak1

Call to Worship
One: Christ the Lord is risen today!
Many: Christ is risen, indeed!
One: Easter people, raise your voices!
Many: Sounds of heaven on earth do ring!
One: Raise your joys and triumphs high!
Many: Alleluia! Alleluia! Alleluia!

Hymn #302: Christ the Lord Is Risen Today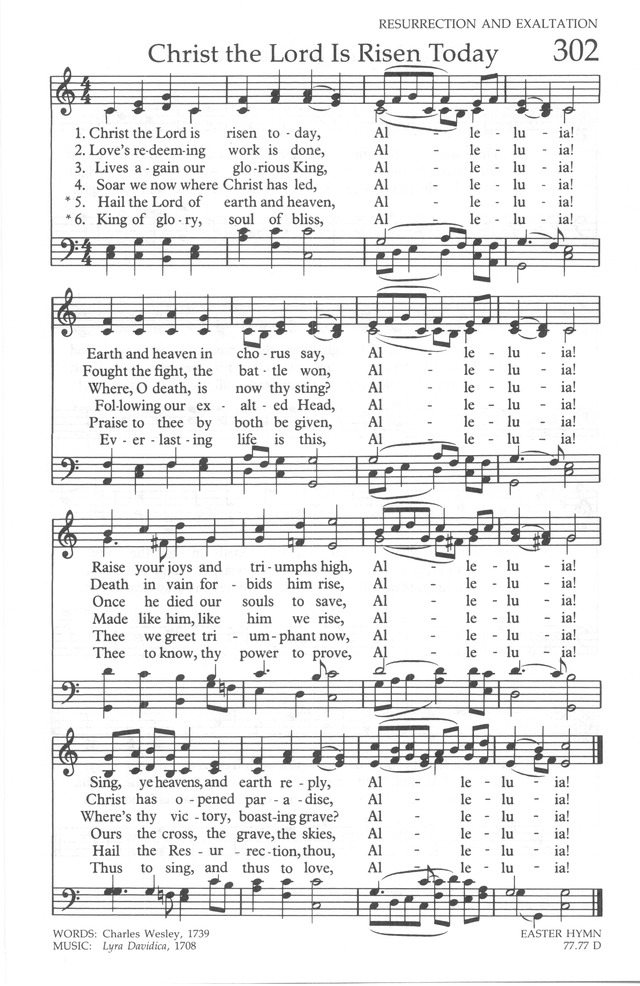 Connecting in Prayer
Shared Prayer

God of Life,
many years ago, faithful women
were trusted to
proclaim the good news
of Jesus' resurrection,
and the world was changed
forever.
May we learn from them,
keep faith with them,
witness as boldly,
and love as deeply.
May our faith be as true.
Amen.

Silent Prayer
Pastoral Prayer

God of Life,
Last year we said to ourselves,
"Easter is just delayed,"
and we waited
to hear the brass,
to smell the lilies,
to wander through the photo show.
Last year we laughed at the idea of combining holidays,
Pentecost and Easter? Homecoming and Easter?
This year we know enough,
to be present to this holy moment when it comes,
not to delay or wait,
because now is the sacred time we are in.
This year we know that this is Easter,
even without the sanctuary,
or the organ.
This is Easter.
God lives.
Life abounds.
Hope is alive.
This. Is. Easter.
This is life.
It doesn't look like the one we knew,
and there are so many new challenges,
yet this is our one, holy, sacred life.
We've found you, Holy One,
in the most unexpected places and moments.
We've noticed you holding us up when we couldn't hold ourselves up.
We've seen you in the kindness of strangers.
We've found wonders that were around us all along,
but we were too busy to notice.
And dear one, we have grieved.
The grief has reminded us to live.
Not to waste this life you have given us.
And so God of Good Friday and of Easter,
we are here to worship you
with hearts and minds
open to this moment,
this Sacred Day.
May it transform us anew.
Amen

The Lord's Prayer
Our Father who art in heaven,
Hallowed be thy name.
Thy kingdom come.
Thy will be done on earth, as it is in heaven.
Give us this day our daily bread.
And forgive us our trespasses,
as we forgive those who trespass against us.
And lead us not into temptation,
but deliver us from evil:
For thine is the kingdom, and the power,
and the glory, for ever. Amen.
Word and Reflection
Choir Anthem
Hallelujah, Amen by George Frideric Handel

Scripture: Jeremiah 31:1-6
Mission Moment – Anne Phillips
Young Parents United


Young Parents United, Inc.(YPU) is a 501c3 nonprofit organization supporting teen parents in the Capital Region. Located at 34 Jay Street in Schenectady, New York. The issues associated with teenage parents and their children profoundly impact families and society on many levels.


Young Parents United offers support and services, advocacy and resource coordination designed to meet the unique needs of teen parents and their children. YPU breaks destructive cycles and opens the doors for growth and opportunities for achieving successful outcomes for struggling teen parents right here in our local community. The impact is far reaching as their supportive programs aim to build independence, life and parenting skills among teen parents – resulting in improved parenting skills, stability and self-sufficiency, while transforming unhealthy patterns.
YPU offers extensive case management, mentoring, child development and parenting skill training, educational programs, assistance with housing stability, high school education completion, college planning, employment assistance, homework help, childcare planning, a safety network, social connections, family activities and much more.


The organization works with other human service and nonprofit organizations in the community to provide direction, to support positive change for adolescent parents and to help change the landscape for very young parents, their children and society for generations to come. Please visit the website for program information and more details by going to:
their web site or send questions to their their e-mail.
Children's Time: The story of the Wooden Egg
Passing of the Peace
If you are worshiping with others, please pass the Peace of Christ.
Whether you are alone or with others, please take a moment to find God's peace within, and then to share it with the world. You may want to reach out to speak peace to another during this week.
Hymn #2115: Christ Has Risen
Scripture Reading – Matthew 28:1-10
Sermon: "Quiet Resurrection" by Rev. Sara Baron
Responding
Offering

Photo by Alice Nash
If you wish, you are welcome to use this time to make a donation to the church online, or to put a check in the mail.
The time of offering is not only about our financial gifts to the church, it is about offering our lives to God and the building of the kindom. This is a time for reflection: What is being asked of us? What is being given to us? What are we able to offer? What do we need?
Offertory: 2021 Lenten Photo Show Slideshow, Presented also as an offering
Prayer of Presentation
God of Life,
Bless our lives, make them useful and wonderful as we grow in love.
Bless our gifts, make them useful and wonderful in building your kindom.
Bless our community, make it useful and wonderful in service to the kindom.
Amen
Hymn #304: Easter People. Raise Your Voices
Benediction
May God's quiet resurrections in your life be noticeable and
transformative. Amen
Postlude
"Toccata" by Léon Boëllmann