First United Methodist Church of Schenectady
Worship for the Second Sunday of Easter
April 11, 2021
Getting Centered
It may help to center yourself into worship by lighting a candle, as a symbol of God's presence with you during the time of worship. You may also want to pay attention to lighting, the position of your body, and the availability of distractions.
Breath Prayer
"Our God, of abundant life"
Breath prayers involve breathing in the first phrase, and breathing out the second.
You may wish to simply pray for a moment before starting, or you may wish to pray while listening to the prelude.
Prelude
"Peal con Brio" by Karen Thompson

Call to Worship
One: Hear the Good News:
Many: Love wins!
One: Rest assured of that truth.
Many: Not only does love win, but hope abides.
One: Let hope roll down like an ever-flowing stream.
Many: God never gives up.
One: Justice is coming!
Many: Easter is here.

Hymn #303: The Day of Resurrection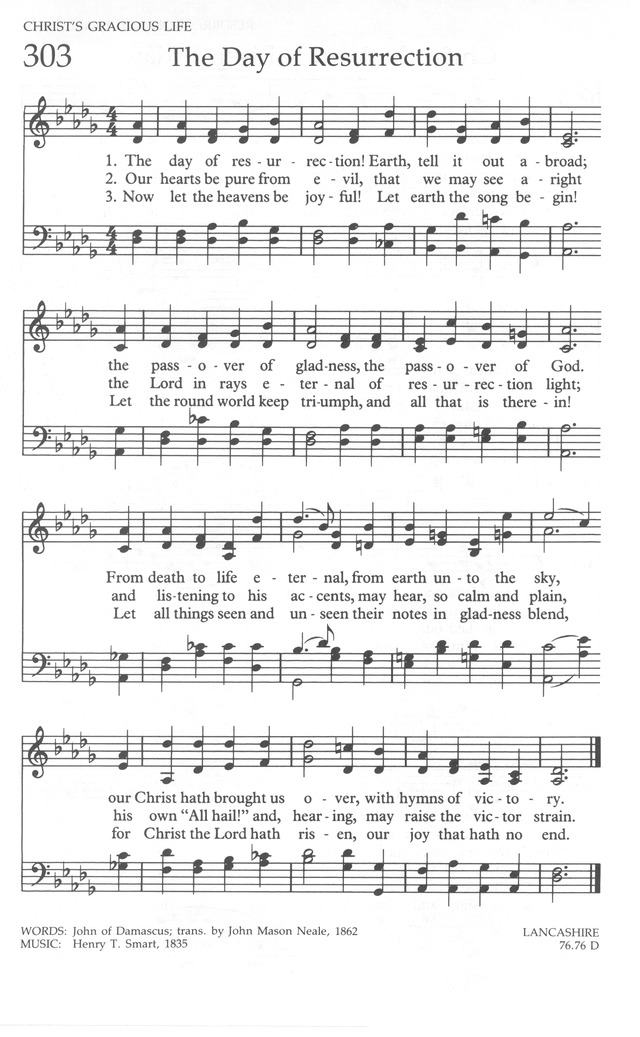 Connecting in Prayer
Shared Prayer

Shared Prayer
God of Resurrection, Easter God,
God of Abundant Life,
You are working within us and
around us to magnify life itself.
Help us attend to your work.
Guide us out of the way when we get in the way.
Show us how to help.
Remind us to rest, and to trust each other,
so that what is meant to be life-giving doesn't become death-dealing.
Amen

Silent Prayer
Pastoral Prayer

God of Abundant Life, In this Easter season we encounter the metaphors of the natural world coming to life right before our eyes day in and day out.
And yet the heaviness of the world remains every present. The pandemic takes more lives every day, grief, loneliness, fear, exhaustion and anxiety continue.
There are so many emotions, there is so much to respond to. Sometimes the heavy is so big we can't see the wonder. Sometimes the wonder is so bright we almost forget the heavy. And sometimes we feel guilty forgetting for a moment – either way.
Help us make space for your grace, in our lives, and in the world. Let us feel what we feel, grow into our realities, see your work, and face the heaviness too.
Help us with the joys, the concerns, the anger, the fear, the wonder, the beauty, and all the rest.
Amen

The Lord's Prayer
Our Father who art in heaven,
Hallowed be thy name.
Thy kingdom come.
Thy will be done on earth, as it is in heaven.
Give us this day our daily bread.
And forgive us our trespasses,
as we forgive those who trespass against us.
And lead us not into temptation,
but deliver us from evil:
For thine is the kingdom, and the power,
and the glory, for ever. Amen.
Word and Reflection
Choir Anthem
Christ Goes Before by Carl Schalk

Scripture: Psalm 133
Mission Moment – Jan Huston
Belinda's Easter Message
Today's mission moment is an Easter reflection by Dr. Belinda Forbes. Belinda is a United Methodist missionary in Nicaragua. She is a dentist and is married to a Nicaraguan physician, Gerardo Gutiérrez. They work with Acción Médica Cristiana (AMC/ Christian Medical Action) in the poorest areas of Nicaragua, which is the second poorest country in this hemisphere. AMC works to improve the health of the people by focusing on the basics – clean water supplies, sanitation, health education, disease prevention, maternal and childcare, and teaching local community health workers. Our church has a covenant relationship with Belinda. That means that we have committed to sending a certain amount of financial support each year. The amount is based on the numbers of members we have. Missionaries are expected to visit their supporting churches every few years. Several people from FUMC and the former Troy Conference have been fortunate to work with Belinda and other members of AMC when we have gone on Volunteers in Mission trips. Many more of us have been able to enjoy being with Belinda when she has visited FUMC and reported on conditions in Nicaragua and her work there. She sent the following Easter message to her supporting churches. Sara and I wanted to share it with all of you.

"Que barbaridad!" This expression can mean many things in Nicaragua, but when Padre Angel Torellas (r.i.p.) said it years ago at an Easter Mass in the Centro Cultural Batahola Norte, a Catholic center in Managua known for its beautiful musicians and revolutionary murals, it was a reprimand (literally, "how barbaric!") to the sparse number of congregants gathered for what is the most important day of the Christian calendar. He went on to scold the "fieles" (faithful) for spending more time on Jesus's death with Good Friday processions and fanfare than the importance of the Resurrection three days later.
As I listened it occurred to me that in my Protestant upbringing, we did the exact opposite. We gingerly "passed over" (no pun intended) the Passion of Christ to avoid bad feelings and the deep pain that this moment implies for us as Christians, in order to get to the good stuff – a new outfit, a glorious worship service, Easter egg hunts, overindulgent parties or lunch out (Easter and Mother's Day are traditionally the busiest times in restaurants in the US, at least pre-pandemic.)
It seems to me that there is no one day to focus on during Holy Week, but the week itself as the culmination of the Lenten journey. The triumphant entrance to Jerusalem with "Hosanna's" (Save us!) ringing in the air, which quickly turned to shouts of "Crucify him!" (read, "save us" but not like that…"), then death….and all it implies; pain, loss, grief…if ever there has been a year or more to understand this part of Holy Week, the pandemic has been that… Then, victory. Death is overcome, sins are forgiven, hope lives on once more. From the fireworks of Midnight Masses and to the cantatas of Sunrise Services, we are now called to be the Easter people today and every day to share the love of Christ wherever we find ourselves.
Happy Easter! Grace and peace, Belinda

This picture is the central mural in Batahola Norte. It depicts a brown baby Jesus in the center. On the left are some of the revolutionary heroes and poets. The right side includes women and peasants (campesinos).
Children's Time: Doubt and Faith
Passing of the Peace
If you are worshiping with others, please pass the Peace of Christ.
Whether you are alone or with others, please take a moment to find God's peace within, and then to share it with the world. You may want to reach out to speak peace to another during this week.
Hymn #307: Christ Is Risen
Scripture Reading – John 20:19-31
Sermon: "Journey with Jesus" by Rev. Sara Baron
Responding
Offering

Photo by Alice Nash
If you wish, you are welcome to use this time to make a donation to the church online, or to put a check in the mail.
The time of offering is not only about our financial gifts to the church, it is about offering our lives to God and the building of the kindom. This is a time for reflection: What is being asked of us? What is being given to us? What are we able to offer? What do we need?
Offertory: "Christ the Lord Is Risen Again" by Philip Stopford
Prayer of Presentation
God of Easter,
As we watch new life emerge this spring,
we notice the ways you nurture life in us and in the world.
As we give our gifts to you,
we offer them so they too can nurture life in us and in the world.
Amen
Hymn #312: Hail the Day That Sees Him Rise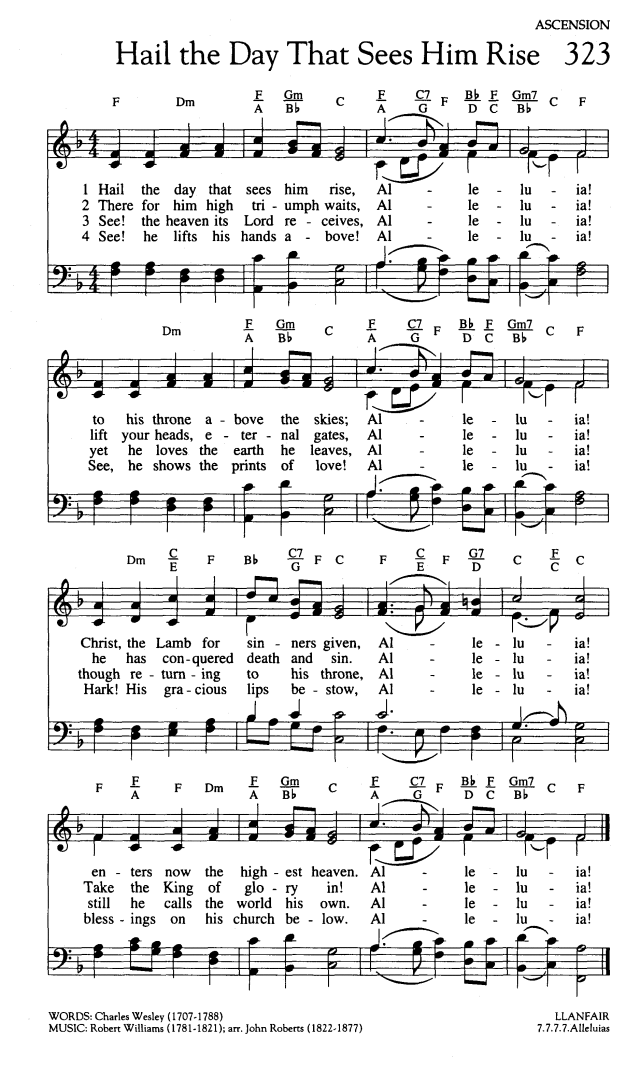 Benediction
Dear ones, may your journeys be blessed, and with God's help may we support each other along the way. Amen
Postlude
"Rondo Passacaglia" by Cynthia Dobrinski