First United Methodist Church of Schenectady
Worship for the Third Sunday of Easter
April 18, 2021
Getting Centered
It may help to center yourself into worship by lighting a candle, as a symbol of God's presence with you during the time of worship. You may also want to pay attention to lighting, the position of your body, and the availability of distractions.
Breath Prayer
"Peace be with you, peace be with me"
Breath prayers involve breathing in the first phrase, and breathing out the second.
You may wish to simply pray for a moment before starting, or you may wish to pray while listening to the prelude.
Prelude
"Trumpet Tune in D Major" by David N. Johnson

Call to Worship
One: Breathe out, dear one,
Many: God is with us.
One: Breathe in, dear one.
Many: God is with us.
One: Let go of the week behind you,
Many: we are here with God.
One: Make space for your heart to be with God.
Many: We are here to worship.

Hymn #318: Christ is Alive

Connecting in Prayer
Shared Prayer

Peacemaker,
Your yearning for wholeness saturates all of creation,
yet you are patient with us as we struggle to come on board with you.
Guide our hearts dear one,
that we may yearn for the things you yearn for,
and let go of our fears and all that holds us back.
Amen

Silent Prayer
Pastoral Prayer

Peacemaker,
We seek to breathe your peace into our hearts, our minds, our strength, and our souls, so that we can be your peace in the world.
We see a world so deeply in need of peace, healing, compassion, and hope.
We also see a world with amazing moments of peace, powerful powers of healing, astounding instances of compassion, and incredible reasons for hope.
Week in and week out those in our midst are vaccinated, and new possibilities emerge.
Week in and week out we thank you for the development of the vaccines and the protection they offer.
There are wonderful signs of compassion in our government, even as we know there remains much to do.
The powers of human resilience amaze us, even as we are aware that many are being stretched beyond their resilience.
Oh dear one, this life of ours is complicated.
Help us find peace in the midst of it all.
Help us be peace in the midst of it all.
Amen

The Lord's Prayer
Our Father who art in heaven,
Hallowed be thy name.
Thy kingdom come.
Thy will be done on earth, as it is in heaven.
Give us this day our daily bread.
And forgive us our trespasses,
as we forgive those who trespass against us.
And lead us not into temptation,
but deliver us from evil:
For thine is the kingdom, and the power,
and the glory, for ever. Amen.
Word and Reflection
Choir Anthem
Paschal Lamb, Who Suffered For Us by Carl Schalk

Scripture: Hosea 5:15-6:6
Mission Moment – Jan Huston and Bob Long
CROP Walk


This week's mission moment features a video about the CROP Walk. The script was written by Bob Long. Linda Smith assisted in the recording. Schenectady's CROP Walk is sponsored by Schenectady Community Ministries (SiCM). The website for the Schenectady CROP Walk is https://events.crophungerwalk.org/2021/schenectady. On this website you can register as an individual or as part of our FUMC team. You can also donate online here. Or you
can skip the website and donate by sending a check to the church with CWS/CROP in the notation. There will be a short virtual rally at 12:30 on May 2 via zoom. Zoom meeting ID is 891 7893 6666. Passcode is 536964. More information is in the April Spire. We hope to see you at 2:00 on May 2 at the Kiwanis Park on route 5S in Rotterdam. Or feel free to walk anywhere else. The goal is to raise money.

Children's Time: Rainy Day
Passing of the Peace

If you are worshiping with others, please pass the Peace of Christ.
Whether you are alone or with others, please take a moment to find God's peace within, and then to share it with the world. You may want to reach out to speak peace to another during this week.
Hymn #314: In the Garden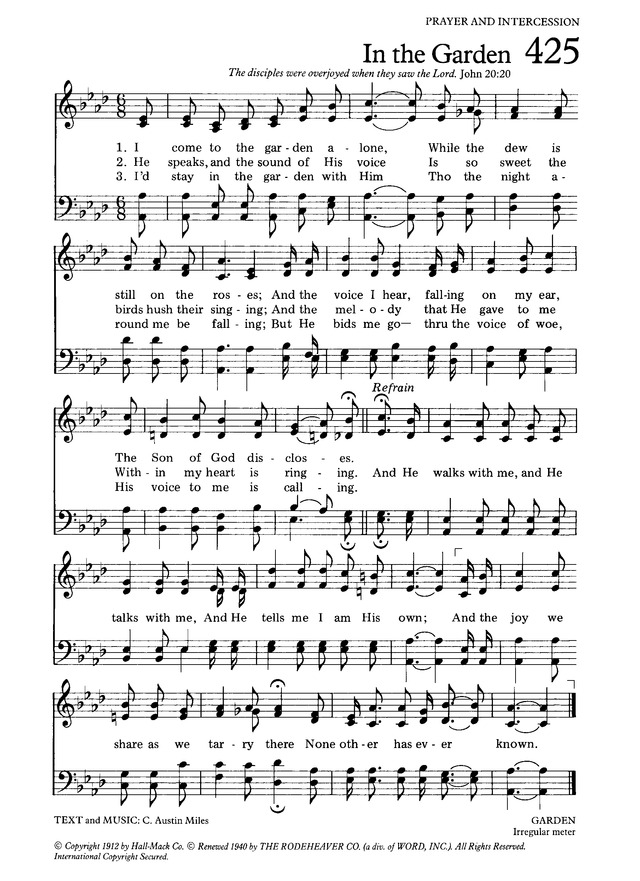 Scripture Reading – Luke 24:36b-48
Sermon: "Three Days? Can You Count?" by Rev. Sara Baron
Responding
Offering

Photo by Alice Nash
If you wish, you are welcome to use this time to make a donation to the church online, or to put a check in the mail.
The time of offering is not only about our financial gifts to the church, it is about offering our lives to God and the building of the kindom. This is a time for reflection: What is being asked of us? What is being given to us? What are we able to offer? What do we need?
Offertory: "This Joyful Eastertide" by Alice Parker and Robert Shaw
Prayer of Presentation
Peacemaker,
May our gifts bless and build your kindom,
and may your peace within us become peace in your world.
Amen

Hymn #311: Now the Green Blade Riseth
Benediction
Resurrection People, may God's hope planted in you come to fruition. Amen
Postlude
"Christ lag in Todesbanden" by Johann Sebastian Bach
Christ lay in death's bonds.
He is risen again
and has brought us life
For this we should be joyful,
praise God and be thankful
and sing Allleluia!