First United Methodist Church of Schenectady
Worship for the Third Sunday of Advent
December 12, 2021
Getting Centered
It may help to center yourself into worship by lighting a candle, as a symbol of God's presence with you during the time of worship. You may also want to pay attention to lighting, the position of your body, and the availability of distractions.
Breath Prayer
"God of Joy, lead us."
Breath prayers involve breathing in the first phrase, and breathing out the second.
You may wish to simply pray for a moment before starting, or you may wish to pray while listening to the prelude.
Prelude
"Of the Father's Love Begotten" by Wilbur Held

Call to Worship
One: Welcome, people of hope.
Many: God is our hope.
One: Welcome, people of peace.
Many: God brings us peace.
One: Welcome, people of joy.
Many: God calls us to joy.
Connecting in Prayer
Shared Prayer

God of Joy,
What a funny thing it is, to call you this, "God of Joy."
Should it be more balanced?
"God of Sadness and Joy"?
Or "God of Anger and Joy"?
What about when we don't have joy?
What about others who aren't experiencing joy?
Or, maybe, that is why we call you God of Joy.
Out of hope for those who are joyless, that they may not be left there.
Out of gratitude for the joy we've known.
Out of a sense that joy is more subtle and closer than we remember.
Out of trust that joy can be a source of wisdom to guide our paths.
God of Joy, we worship you. Amen.

Silent Prayer
The Lord's Prayer
Our Father (Creator) who art in heaven,
Hallowed be thy name.
Thy kingdom come.
Thy will be done on earth, as it is in heaven.
Give us this day our daily bread.
And forgive us our trespasses,
as we forgive those who trespass against us.
And lead us not into temptation,
but deliver us from evil:
For thine is the kingdom, and the power,
and the glory, for ever. Amen.
Word and Reflection
Hymn #216: Lo, How a Rose E'er Blooming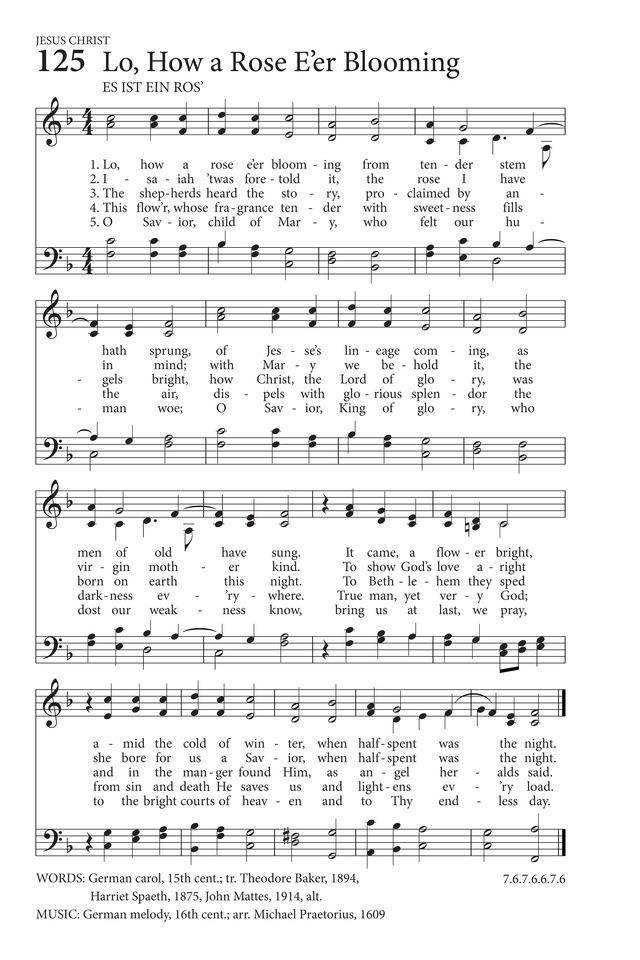 Scripture Reading: Zephaniah 3:14-20
Mission Moment: Alternative Giving: CWS Blankets – Jan Huston
One of our suggestions for alternative giving this year is to donate to the Church World Service blanket program. Church World Service is a cooperative ministry of 37 denominations. They provide sustainable self-help, development, disaster relief and refugee assistance around the world. Their mission is to eradicate hunger and poverty and to promote peace and justice at national and international levels through collaboration with partners abroad and in the United States.


One of their projects is to distribute blankets to those who need them. They have heavy gray blankets for cold areas and lighter yellow ones for warm areas. Last year I saw yellow ones in refugee shelters in both Nogales, Mexico, and Tucson, Arizona. We can purchase a blanket for only $10 as an alternative gift by giving to the church by check or online and noting that the money is for Church World Service.


You have heard more about the good works of this organization for many years. Instead of repeating that information, I want to share a poem written by one of my friends:
We swaddle our newborn babies
in a soft blanket to keep them safe and warm.
The small child clings to a favorite blanket
to feel loved and secure.
Homeless children carry a blanket
as they walk the dusty paths of
their interrupted lives.
Young people pull blankets up around them
when sleeping and feel comforted.
I pull the blanket tight around me
to dream and feel at peace.
A man in Haiti wraps a blanket around
a statue of Mother Mary and carries her
to safety after the earthquake.
A homeless man unfolds his blanket
to make a bed and keep out the cold
and lies down under a shelter until morning.
In times of crises, in times of sadness, in
times when the world seems to be coming
apart, we share blankets, and in doing so
we share love.
Children's Time
Passing of the Peace

If you are worshiping with others, please pass the Peace of Christ.
Whether you are alone or with others, please take a moment to find God's peace within, and then to share it with the world. You may want to reach out to speak peace to another during this week.
Scripture Reading – Luke 3:7-18
Sermon: "Soft Eyes and Third Ways" – Rev. Sara Baron
Responding
Advent Song: Come and Find the Quiet Center
Advent Wreath Lighting
Offering

Photo by Larry McArthur
If you wish, you are welcome to use this time to make a donation to the church online, or to put a check in the mail.
The time of offering is not only about our financial gifts to the church, it is about offering our lives to God and the building of the kindom. This is a time for reflection: What is being asked of us? What is being given to us? What are we able to offer? What do we need?
Prayer of Joy
God of Joy,
For that in life that is fun and funny, we give you thanks.
For that in life that is delightful and insightful, we give you thanks.
For the people who listen to us, care about us, see us,
and make us giggle, we give you thanks.
For the homes we have known,
and the homes we have made, we give you thanks.
For pets who companion us,
and nature that inspires us, we give you thanks.
For the chance to build your kindom,
to do meaningful work,
and life-giving play, we give you thanks.
For art, for music, for poetry, for creativity, we give you thanks

Benediction
God from this time, attending to God, attending to joy. Amen
Postlude
"Now Thank We All Our God" by Sigfrid Karg-Elert