First United Methodist Church of Schenectady
Worship for the Second Sunday of Christmas
January 2, 2022
Getting Centered
It may help to center yourself into worship by lighting a candle, as a symbol of God's presence with you during the time of worship. You may also want to pay attention to lighting, the position of your body, and the availability of distractions.
Breath Prayer
"Light of the World, Illuminate Me."
Breath prayers involve breathing in the first phrase, and breathing out the second.
You may wish to simply pray for a moment before starting, or you may wish to pray while listening to the prelude.
Prelude
Two Settings of "In Dulci Jubilo" (In Sweetest Joy) by Johann Sebastian Bach and Dieterich Buxtehude

Call to Worship
One: The Light of God has come into the world!
Many: The Light shines on us and shows us the way!
One: God has sent the Light to us,
Many: To gather us in to the source of our being.
One: The darkness of the tomb shall not overshadow us,
Many: The Light has come to bring us new life and love.
One: The darkness of the womb leads to birth and new understanding.
Many: We are born anew into the light of Christ that has come to us.

Hymn #220: Angels from the Realms of Glory
Connecting in Prayer
Shared Prayer (from Ruth C. Duck)

Gracious One, we give you thanks for the hope that is ours in Jesus Christ. We thank you that you forgive us and give us power to begin anew. Therefore, we pray that you will come to us and touch those secret places in our lives that we most need to change. Tear down the barriers that keep us from loving others. Root out all violence from our lives. Free us from dependency on any person or thing or substance, that we may place our full trust in you. Instill us with discipline to establish new habits. Teach us to care for your bodies. Prune away the dead leaves of our lives; through your creative power, may new shoots come forth from the barren stem. Bring forth your new life within us, through the grace of Jesus Christ. Amen.
Silent Prayer
The Lord's Prayer
Our Father (Creator) who art in heaven,
Hallowed be thy name.
Thy kingdom come.
Thy will be done on earth, as it is in heaven.
Give us this day our daily bread.
And forgive us our trespasses,
as we forgive those who trespass against us.
And lead us not into temptation,
but deliver us from evil:
For thine is the kingdom, and the power,
and the glory, for ever. Amen.
Word and Reflection
Hymn #221: In the Bleak Midwinter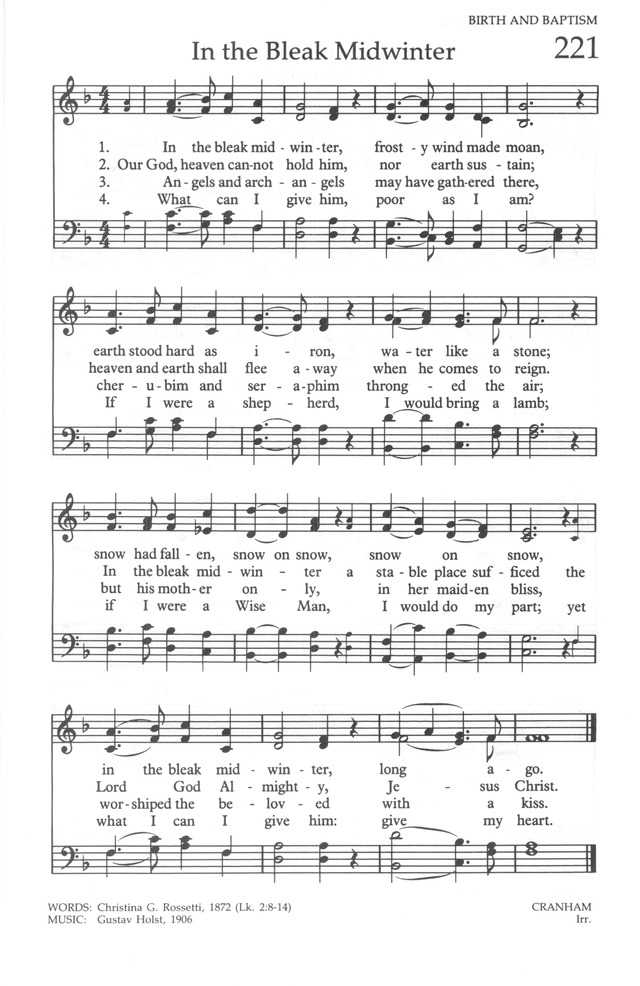 Scripture Reading: Ephesians 1:3-14
Children's Time
Passing of the Peace

If you are worshiping with others, please pass the Peace of Christ.
Whether you are alone or with others, please take a moment to find God's peace within, and then to share it with the world. You may want to reach out to speak peace to another during this week.
Scripture Reading – John 1:1-18
Sermon: "Darkness of the Womb" – Michele Cole
Responding
Offering

Photo by Larry McArthur
If you wish, you are welcome to use this time to make a donation to the church online, or to put a check in the mail.
The time of offering is not only about our financial gifts to the church, it is about offering our lives to God and the building of the kindom. This is a time for reflection: What is being asked of us? What is being given to us? What are we able to offer? What do we need?
Offertory: Voluntary on "Angels We Have Heard on High" by Christopher Uelein
Prayer for New Beginnings
Holy One, you bring light to our days with your persistent love and care. When the darkness threatens to overwhelm us your Light shines through in the faces of those we love, and who love us, reaching in to give a hand or to lift us up. When we see a dimming in the eyes of those we care about we share your Light with them too. You promise us that this Light will overcome any darkness that surrounds us, and that you are with us always. In this new year, help us to re-commit our lives to you as you are committed to us. Help us to use the gifts we are given as you would have us use them, to dispel the darkness wherever we find it. We ask in the name of Jesus, Amen.

Hymn #230: "O Little Town of Bethlehem"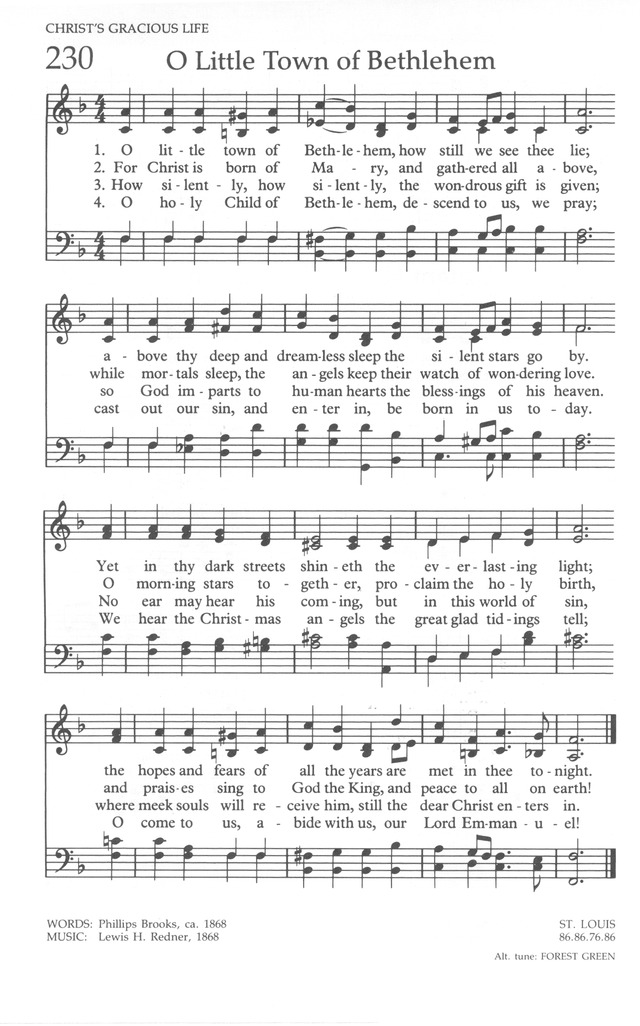 Benediction
Go in the love and peace of Christ, to shine your Light in a world that desperately needs it, and you. Amen.
Postlude
"Chorale Prelude on "In Dulci Jubilo" (In Sweetest Joy) by Johann Sebastian Bach