First United Methodist Church of Schenectady
Worship for the 3rd Sunday After Epiphany
January 30, 2022
Getting Centered
It may help to center yourself into worship by lighting a candle, as a symbol of God's presence with you during the time of worship. You may also want to pay attention to lighting, the position of your body, and the availability of distractions.
Breath Prayer
"God of Visions, guide us."
Breath prayers involve breathing in the first phrase, and breathing out the second.
You may wish to simply pray for a moment before starting, or you may wish to pray while listening to the prelude.
Prelude
"Wenn wir in höchsten Nöten sein (When We Are in Deepest Need)" by Johann Sebastian Bach

One: From afar,
Many: *sigh*
One: From our homes,
Many: (murmured) …still…
One: With exhaustion,
Many: (yelled) SO MUCH EXHAUSTION!
One: We worship God.
Many: Because God is God and we are God's. Still.

Hymn #57: "O, For a Thousand Tongues to Sing" (v. 1-3, 5)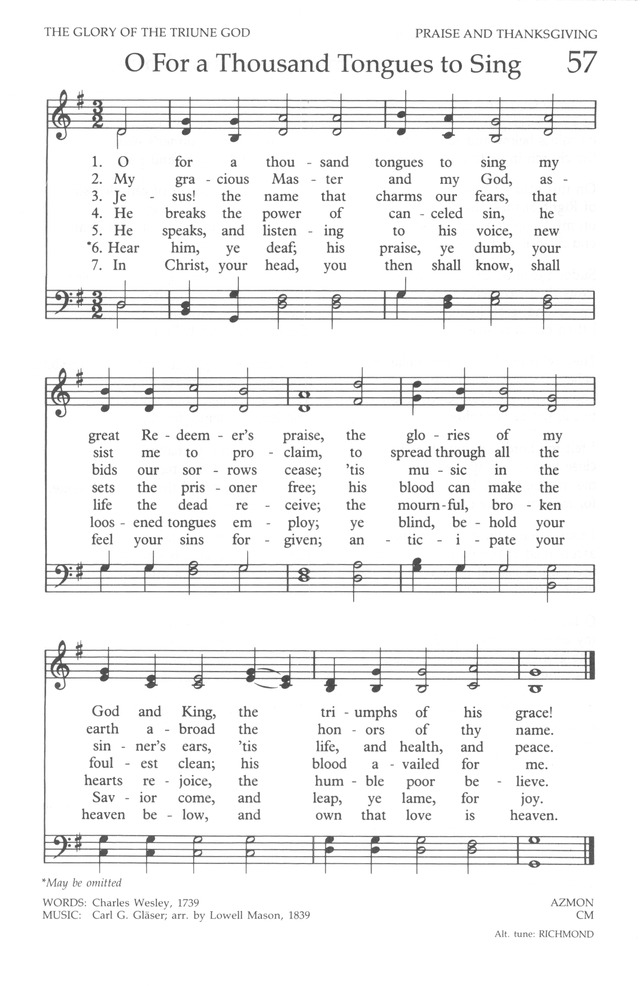 Connecting in Prayer
Shared Prayer

One Who Doesn't Give Up,
You keep on dreaming for us,
Nurturing us towards wholeness,
Offering us ways to restart,
Seeding our dreams
for wonderful things.
When we feel like giving up,
let us lean on you.
When we need to give up,
help us trust you to get us BACK up.
Amen

Silent Prayer
The Lord's Prayer
Our Father (Creator) who art in heaven,
Hallowed be thy name.
Thy kingdom come.
Thy will be done on earth, as it is in heaven.
Give us this day our daily bread.
And forgive us our trespasses,
as we forgive those who trespass against us.
And lead us not into temptation,
but deliver us from evil:
For thine is the kingdom, and the power,
and the glory, for ever. Amen.
Word and Reflection
Scripture Reading: Isaiah 61:1-4 and Luke 4:14-21
Children's Time: Luke, Jesus, Us
Hymn #194: "Morning Glory, Starlit Sky"
Passing of the Peace

If you are worshiping with others, please pass the Peace of Christ.
Whether you are alone or with others, please take a moment to find God's peace within, and then to share it with the world. You may want to reach out to speak peace to another during this week.
Sermon: "A Vision for Us Together" – Rev. Sara Baron
Responding
Offertory: "Christe, du Lamm Gottes (Oh Christ, You Lamb of God)" by Johann Sebastian Bach
Offering

Photo by Larry McArthur
If you wish, you are welcome to use this time to make a donation to the church online, or to put a check in the mail.
The time of offering is not only about our financial gifts to the church, it is about offering our lives to God and the building of the kindom. This is a time for reflection: What is being asked of us? What is being given to us? What are we able to offer? What do we need?
A Fifth(?) Wave Prayer
God of All the World,
Two years ago we had heard of a virus,
and wondered if it would travel the world and impact us.
We could not have imagined.
We're not always good at imagining what will come,
but you are.
And you are always able to imagine good that can come,
even out of the hardest things.
Help us to imagine with you,
and bless our offerings that they may be useful to your dreams.
Amen

Hymn #2130: "The Summons"
Benediction
May God guide us, as we follow Jesus in upending the status quo for the sake of those who have been marginalized. Amen
Postlude
"Sonata II: Allegro Maestoso e vivace" by Felix Mendelssohn