First United Methodist Church of Schenectady
Worship for Third Sunday after Pentecost /
Graduation Sunday
June 21, 2020

"FUMC from the Air" by Peter Frisoni
Getting Centered
It may help to center yourself into worship by lighting a candle, as a symbol of God's presence with you during the time of worship. You may also want to pay attention to lighting, the position of your body, and the availability of distractions.
Breath Prayer
"I give thanks for all blessings – past, present, and future."
Breath prayers involve breathing in the first phrase, and breathing out the second.
You may wish to simply pray for a moment before starting, or you may wish to pray while listening to the prelude.
Prelude
"Cantilena" by Josef Rheinberger
Dominick Giaquinto – Organ

Call to Worship
If you are with another person, you may wish to read this out-loud. Otherwise, you can read it as a reminder that this is communal worship done in a large geographical area.
One: Welcome to each and every one of you!
Many: We thank you for thinking about us with your welcome.
One: May the joy we have found in Christ Jesus become your joy too.
Many: We have found a welcoming presence among you.
One: Thanks be to God who has welcomed each one of us!
Many: May we share that same loving welcoming with others.
Hymn #369: Blessed Assurance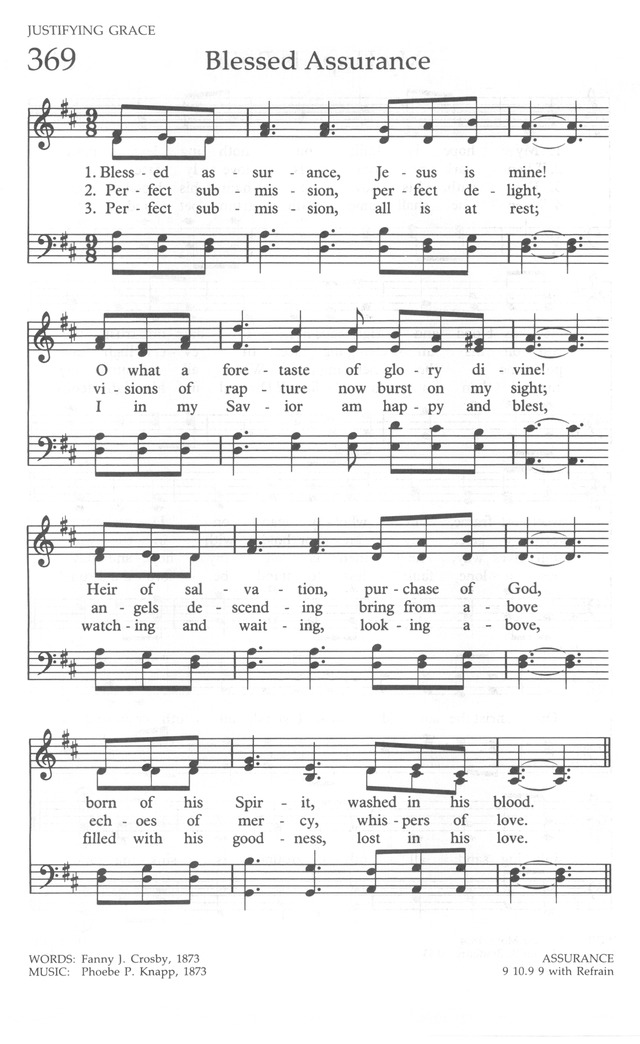 Connecting in Prayer
Shared Prayer
Together, let us pray –
For the people of this congregation…
For those who suffer and are in trouble…
For the concerns of this local community and neighborhood…
For our nation as it struggles…
For the world, its peoples, and its leaders…
For the Church Universal as it seeks to welcome all. Amen.
Silent Prayer
Pastoral Prayer
You are welcome to read this out-loud or silently.
God of Life and Love, we thank you for the mystery planted in us: the paradox of life from death, of selflessness from selfishness, of a desire for justice from an attitude of just us, of a heart of love from a heart of stone. Blessed is your risen Christ, the Lord of growth and discovery, of beauty and joy, of peace and justice, who makes all things new. Set within us your heart of Love, that we may give of ourselves in love to one another and to the people we meet. Amen.
The Lord's Prayer
Our Father who art in heaven,
Hallowed be thy name.
Thy kingdom come.
Thy will be done on earth, as it is in heaven.
Give us this day our daily bread.
And forgive us our trespasses,
as we forgive those who trespass against us.
And lead us not into temptation,
but deliver us from evil:
For thine is the kingdom, and the power,
and the glory, for ever. Amen.
Word and Reflection
Choir Anthem
And Peace Shall Guard You – Michael John Trotta

Peace shall guard you, peace shall guard you.
In all things, with thanksgiving, make your need known;
and peace shall guard you. It shall guard your hearts and your minds.
For nothing be anxious, but in all things,
and with thanksgiving make your hearts known.
And peace shall guard you.
In all things with thanksgiving, make your need be known
and peace shall guard you.
Scripture – Isaiah 55:1,12
Mission Moment – Barbara Armstrong
Book Discussion: The Time Is Now – A Call to Uncommon Courage


Recently a small group of us from our church gathered on the back lawn to share their thoughts on a book we all read as a recommendation made by the Intersectional Justice Committee. It was a blessing to see those who gathered and we were even joined by a member from another neighboring congregation. The book discussed was The Time Is Now – A Call to Uncommon Courage written by Joan Chittister. It sparked a lively conversation about what a prophet is and if in fact there exists modern day prophets today. She cited many whom she believed to be modern day prophets "who speak the truth to a culture of lies." They are people who stand up to power and say no, but also who say yes to justice, equal rights, embracing and celebrating our differences and to the wholeness of oneself. Among the questions put forth was if in fact there might be some prophets that have
been or are members of our FUMC family.


One of the things I enjoyed about this book was the way in which the book was written. It was composed of several chapters each exploring a quality that is seen in prophets and how that quality might be beneficial in today's everyday living. The group explored many of the very challenging situations we are living with today and how important these qualities would be in helping us to find solutions as we move forward. She closed each chapter with a reflection and a quote from great individuals from the past. One such quote that I enjoyed was as follows: "Every great dream begins with a dreamer. Always remember, you have within you the strength, the patience, and the passion to reach for the stars to change the world." Can you guess who that was written by?


All in all it was an easy read and it led us to some wonderful discussion. Our next book will be Weird Church-Welcome to the Twenty-first Century by Beth Ann Estock and Paul Nixon. The Welcoming Committee at FUMC is also reviewing this book and all are welcome to join in the discussion. The Intersectional Justice Committee is planning to gather at Central Park, opposite the Rose Garden to share insights and be in community with one another. You should be prepared to laugh, learn and listen. We are encouraging people to be safe and wear their masks and to bring a lawn chair that is comfortable.
In Sister Chittister's concluding chapter she shared a quote by Maimonides, "Be not a whisper that is lost in the wind; be a voice that is heard above the storms of life."
Passing the Peace
If you are worshiping with others, please pass the Peace of Christ. Whether you are alone or with others, please take a moment to find God's peace within, and then to share it with the world. This may take several breaths or moments, it is OK to wait. Sharing might work well this way: think of a dearly beloved with whom to share the peace, then think of other beloveds, then of friends, then acquaintances, then those who frustrate you, then those you don't really know, then those you don't know at all. In this way, God's peace (wholistic well-being) is spread to all.
Please note you can also share the peace online through our Facebook page, or yours
Hymn #273: Jesus' Hands Were Kind Hands
https://www.youtube.com/watch?v=RBgmYwMw9qo
Jesus' hands were kind hands, doing good to all,
healing pain and sickness, blessing children small,
washing tired feet, and saving those who fall;
Jesus' hands were kind hands, doing good to all.
Take my hands, Lord Jesus, let them work for you;
make them strong and gentle, kind in all I do.
Let me watch you, Jesus, till I'm gentle too,
till my hands are kind hands, quick to work for you.
Scripture Reading: Matthew 21:6-9
Sermon – "You're Welcome" – Rev. Ray Stees
Responding
Offering

If you wish, you are welcome to use this time to make a donation to the church online, or to put a check in the mail.
The time of offering is not only about our financial gifts to the church, it is about offering our lives to God and the building of the kindom. This is a time for reflection: What is being asked of us? What is being given to us? What are we able to offer? What do we need?
Offertory Anthem
"With a Voice of Singing" by Martin Shaw

Prayer of Presentation: #587
Bless thou the gifts our hands have brought;
Bless thou the work our hearts have planned.
Ours is the faith, the will, the thought;
The rest, O God, is in thy hand.
Hymn #451: Be Thou My Vision
Benediction
Knowing that I am God's beloved, I openly share my welcoming spirit with those who most need to feel welcomed.
Postlude
"Sarabande" by Jason Krug