First United Methodist Church of Schenectady
Worship for Second Sunday after Pentecost
June 14, 2020

"FUMC from the Air" by Peter Frisoni
Getting Centered
It may help to center yourself into worship by lighting a candle, as a symbol of God's presence with you during the time of worship. You may also want to pay attention to lighting, the position of your body, and the availability of distractions.
Breath Prayer
"Alleluia! Alleluia! Glory be to God on High!"
Breath prayers involve breathing in the first phrase, and breathing out the second.
You may wish to simply pray for a moment before starting, or you may wish to pray while listening to the prelude.
Prelude
"Prière À Notre Dame" by Léon Boëllmann
Dominick Giaquinto – Organ

Call to Worship
If you are with another person, you may wish to read this out-loud. Otherwise, you can read it as a reminder that this is communal worship done in a large geographical area.
One: God of Love, You care for us as Shepherd,
Many: Leading us to fresh pasture and living water.
One: You care for us as Holy Parent,
Many: Drawing us closer, to you and each other,
Within your tender embrace.
One: You care for us as Savior,
Many: Forgiving all who reach out to you in faith.
Hymn #89: Joyful, Joyful, We Adore Thee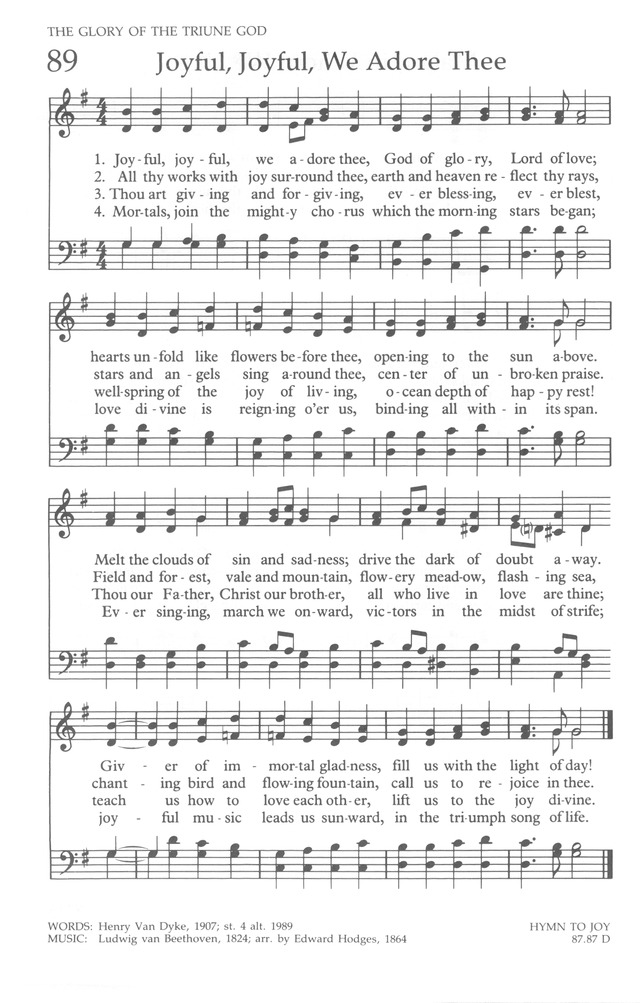 Connecting in Prayer
Shared Prayer
Almighty God, your blessed Son was led by the Spirit to be tempted by Satan. Come quickly to help us who are assaulted by many temptations. And, as you know the weakness of each of us, let each find you to be our personal and mighty Savior. Through and with Jesus the Christ. Amen.
Silent Prayer
Pastoral Prayer
You are welcome to read this out-loud or silently.
Almighty God, pour upon us your wisdom and grace as we embark on this week's journey of discovery. Enkindle in our hearts the fire of our love, that warmed by your presence and inspired by your spirit, we seek your purpose for each of us. May we bring glory to you in the way we live our lives and minister to your people. Bless us in our mission to be all that we can become, through the holy power and peace of your Trinitarian Being. Amen.
The Lord's Prayer
Our Father who art in heaven,
Hallowed be thy name.
Thy kingdom come.
Thy will be done on earth, as it is in heaven.
Give us this day our daily bread.
And forgive us our trespasses,
as we forgive those who trespass against us.
And lead us not into temptation,
but deliver us from evil:
For thine is the kingdom, and the power,
and the glory, for ever. Amen.
Word and Reflection
Choir Anthem
Open Thou Mine Eyes – John Rutter

Scripture – Isaiah 12
Mission Moment – Dana Carroll
My Square Foot Garden Brings Me Joy
This is my Square Foot Garden. I've had many vegetable gardens in my life and they all drove me crazy because they inevitably were overcome with weeds; weeds that clung to the ground like a cat trying to avoid taking a bath. My Square Foot Garden doesn't have many weeds, and the ones it does have are easy to pull. I spend only a few minutes pulling weeds when I walk out to admire my garden.


The Square Foot Gardening idea was invented by Mel Bartholomew. He is an engineer and a gardener and he noticed that traditional methods of gardening are not as efficient as they should be. Rows of vegetables waste too much space, water, fertilizer and effort. Gardening can be much easier to manage. So Square Foot Gardening was born.
My Square foot garden is made of 4 foot boxes built with 2×6 boards that are not treated. You can put dirt in the box but it is better to make your own soil with equal parts compost, peat moss and vermiculite. This soil is so nice and soft that it makes it much easier to plant and to pull weeds. I never till it and it never gets walked on and therefore it remains soft and pliable.


Each 4 foot square box is divided into 16 one square foot sections. I use white, plastic lattice for the dividers. The planting is done mathematically according to the size of the plant. For instance, you can plant 16 carrot seeds in 1 square foot, but only 1 tomato plant. Zucchini takes up 9 of the small squares.
To save room I grow peas, cucumbers and tomatoes on three sets of verticals that I built using rebar, conduit, and webbing. Admittedly it took some work that first year building the boxes and the verticals. But now that it's done it makes my gardening much easier.


Because I never have to till, and because these raised beds drain so well, I can plant very early. I fill up all my boxes in April, with seeds of cool weather crops. That's spinach, lettuce, broccoli raab, peas, onions, beets, arugala, turnips and broccoli. Around Memorial Day I plant seeds of green beans and squash and I buy tomato plants and eggplants. If my early plants are in the way, I just eat them to make room.
I got a wonderful surprise this spring. Last fall I planted spinach and I was disappointed that it didn't produce. But early this spring, there it was! It waited all winter and gave me a delicious, early crop.
If you want to try it, you might want to buy Mel Bartholomew's The New Square Foot Gardening. If you have questions, contact me.
Children's Time
Passing the Peace
If you are worshiping with others, please pass the Peace of Christ. Whether you are alone or with others, please take a moment to find God's peace within, and then to share it with the world. This may take several breaths or moments, it is OK to wait. Sharing might work well this way: think of a dearly beloved with whom to share the peace, then think of other beloveds, then of friends, then acquaintances, then those who frustrate you, then those you don't really know, then those you don't know at all. In this way, God's peace (wholistic well-being) is spread to all.
Please note you can also share the peace online through our Facebook page, or yours

Hymn #454: Open My Eyes! That I May See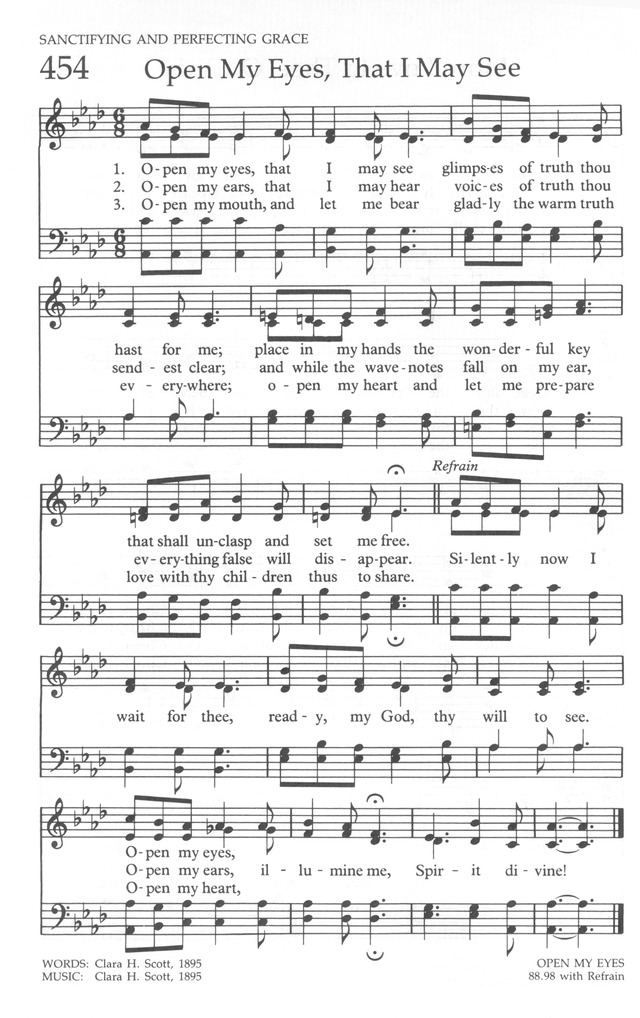 Scripture Reading: Luke 4:1-13
Sermon – "Responding Resourcefully to Temptation" – Rev. Ray Stees
Responding
Offering

If you wish, you are welcome to use this time to make a donation to the church online, or to put a check in the mail.
The time of offering is not only about our financial gifts to the church, it is about offering our lives to God and the building of the kindom. This is a time for reflection: What is being asked of us? What is being given to us? What are we able to offer? What do we need?
Offertory Anthem
"Will You Come and Follow Me" by Tom Trenney

Prayer of Presentation
Receive these gifts, O Lord, and use them as you will to bring assurance to all who struggle; hope to all who are discouraged; and peace to all who are embattled in ways they've never imagined.
Hymn #395: Take Time to Be Holy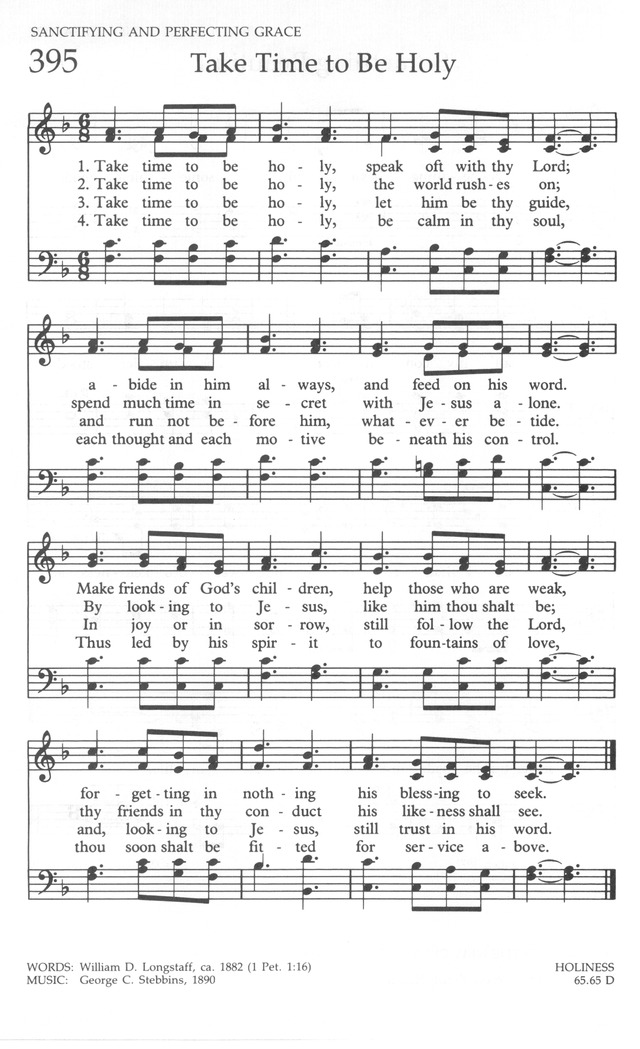 Benediction
We commit ourselves individually and as a community to the way of Christ: to take up the cross; to seek abundant life for all of humanity; to struggle for peace with justice and freedom; to risk ourselves in faith, hope and love, praying that God's Kingdom may come.
Postlude
"Fugue in G Minor" by Johann Sebastian Bach
Performed by Dominick Giaquinto, Organ