First United Methodist Church of Schenectady
Worship for World Communion Sunday
October 3, 2021

Photo by Zach Long
Getting Centered
It may help to center yourself into worship by lighting a candle, as a symbol of God's presence with you during the time of worship. You may also want to pay attention to lighting, the position of your body, and the availability of distractions.
Breath Prayer
"Food of life, drink of love."
Breath prayers involve breathing in the first phrase, and breathing out the second.
You may wish to simply pray for a moment before starting, or you may wish to pray while listening to the prelude.
Prelude
"Allegretto" on Dove of Peace by Robert J. Powell

Call to Worship
One: We come together to remember and celebrate.
Many: We remember how Jesus lived a life of love.
We celebrate that we can do the same.
Hymn: We Come Recalling Jesus' Love
A poem by Bill Pattison

We come recalling Jesus' love for people from far and near
And in the cup and bread we find our call to share and care.
By coming to this act of praise we learn to see the way
That leads to serving in his name the folks we meet each day.
We celebrate the joy it is to live among good friends
And in the strength of unity we welcome strangers in.
Connecting in Prayer
Shared Prayer

O God, in this service we recall how Jesus shared meals with his friends. They ate bread and drank wine together. After his death, his friends continued to remember him through such sharing. Help us remember the loving ways of Jesus as we share in this time together. Amen.
Silent Prayer
The Lord's Prayer
Our Father (Creator) who art in heaven,
Hallowed be thy name.
Thy kingdom come.
Thy will be done on earth, as it is in heaven.
Give us this day our daily bread.
And forgive us our trespasses,
as we forgive those who trespass against us.
And lead us not into temptation,
but deliver us from evil:
For thine is the kingdom, and the power,
and the glory, for ever. Amen.
Mission Moment
Schenectady Community Ministries – Rev. Amaury Tañón-Santos
For decades, the First United Methodist Church has been an active presence in and for Schenectady standing for welcome and hospitality, justice and equity, seeking ways to bridge the gaps that exist because poverty is a system imposed on many in our community. In the 1960s, pastoral and lay leaders of the FUMC were instrumental in encouraging the founding of the former Schenectady Ecumenical Urban Ministry, now the Schenectady Community Ministries. FUMC was instrumental some years later in the establishment of SiCM's food pantry, housing the pantry for many years. FUMC's footprint in SiCM is wide and deep through continued and faithful financial support (which we greatly need!), with volunteers and board leaders (for which we are blessed and grateful for), and with your continued witness as a faith community member of SiCM.


These many years later, the collaborative witness and commitment to justice of the FUMC alongside the other member faith communities that make up the SiCM collaborative continues to impact and be present with Schenectady. Together we manage the largest food pantry in Schenectady County (serving over 10,000 households/year), manage the count-wide summer meals program (distributing over 50,000 meals to children and youth), and manage a community farm with over 1.5 acres of urban farmland. Together we built a community hub that is set to open soon as an expanded safe space for everyone that knows SiCM to be generative, welcoming space. Together. We are able do this only together. This World Communion Sunday I encourage you to thank God for the opportunity of working across every diversity that makes
the human creation in seeking to build a faithful, just, verdant and equitable world – starting with everyone that calls Schenectady home.
To learn more about the work you are a part of through SiCM, and to join and support that work, please visit us online at sicm.us/donate or send me an email at ed@sicm.us. I look forward to reading from you!
Word and Reflection
Children's Time
Passing of the Peace

If you are worshiping with others, please pass the Peace of Christ.
Whether you are alone or with others, please take a moment to find God's peace within, and then to share it with the world. You may want to reach out to speak peace to another during this week.
Hymn #618: Let Us Break Bread Together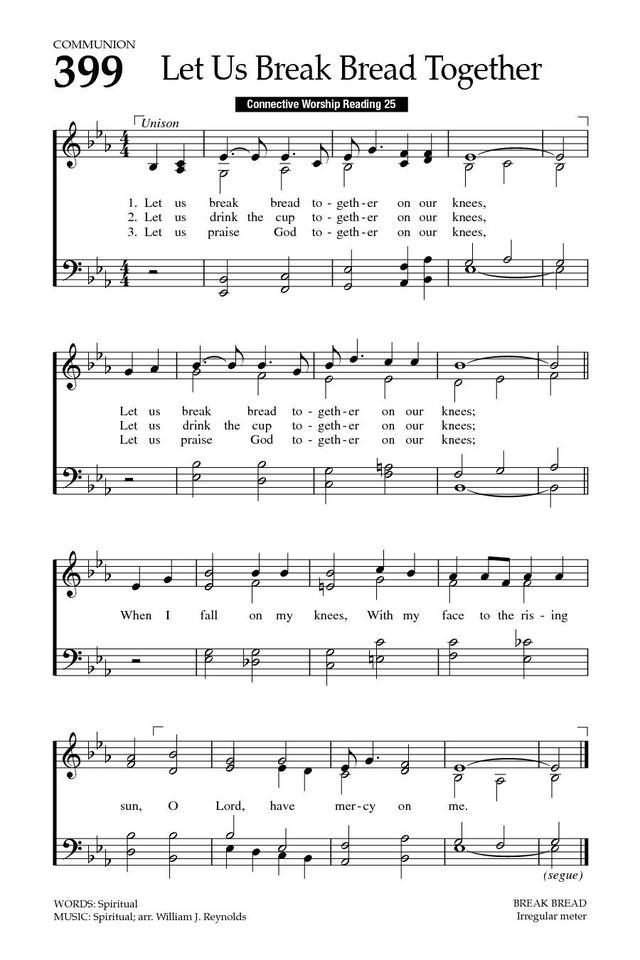 Scripture Reading – Mark 4:30-32
Sermon – The Aphorism That Grew – Rev. Bill Pattison
Communion
Invitation from Rev. Amaury Tañón-Santos

(You are invited to take your own elements, pray and consume as the Spirit moves you.)


Prayer: Because Jesus called people his friends, and broke bread with them and shared the cup with a thankful heart, so now we break bread and share the fruit of the vine, asking you to blend your action with ours so that we may be united in all our living.
All: Amen.
Sharing the Elements
Responding
Offering

Photo by Larry McArthur
If you wish, you are welcome to use this time to make a donation to the church online, or to put a check in the mail.
The time of offering is not only about our financial gifts to the church, it is about offering our lives to God and the building of the kindom. This is a time for reflection: What is being asked of us? What is being given to us? What are we able to offer? What do we need?
Hymn #614: For the Bread Which You Have Broken
Benediction
Be in peace as God gives you peace. Amen.
Postlude
On "For the Bread Which You Have Broken" by David Cherwien