First United Methodist Church of Schenectady
Worship for Christian Education Sunday / Peace with Justice Sunday
June 7, 2020

"FUMC from the Air" by Peter Frisoni
Getting Centered
It may help to center yourself into worship by lighting a candle, as a symbol of God's presence with you during the time of worship. You may also want to pay attention to lighting, the position of your body, and the availability of distractions.
Breath Prayer
"In You we live and move and have our being."
Breath prayers involve breathing in the first phrase, and breathing out the second.
You may wish to simply pray for a moment before starting, or you may wish to pray while listening to the prelude.
Prelude
"Processional in E Flat" by David N. Johnson
Dominick Giaquinto – Organ

Call to Worship
If you are with another person, you may wish to read this out-loud. Otherwise, you can read it as a reminder that this is communal worship done in a large geographical area.
One: Our Loving God calls us together as a Family of Christ.
Many: To transform us with that holy love.
One: To transform our eyes,
Many: That we may see God's grace.
One: To transform our hands,
Many: That we may serve others.
One: To transform our spirits,
Many: That we may be the healing body of Christ,
One: Gathered to worship,
All: And sent out to serve.
Hymn #347: Spirit Song
Connecting in Prayer
Shared Prayer – UMH 313:3
Death has lost its old dominion, let the world rejoice and shout!
Christ, the firstborn of the living, gives us life and leads us out.
Let us thank our God, who causes hope to spring up from the ground.
Christ is risen, Christ is giving life eternal, life profound.
Silent Prayer
Pastoral Prayer – Rev. Dr. Brolin C. Parker
You are welcome to read this out-loud or silently.
O God! Torn and confused, sometimes lonely and enraged, greet this new day with suspicion.
Spirit of Life, show me the gate to healing. May I find in my heart the tools to craft a way through the pain.
O God, when even those tools fail me, may other hands reach out and may I
welcome them and know them as Your hands, gently holding me. Keep me from
collapse, shaping me and molding new strength until I am ready to try again. O God, be present! Amen and Amen.
The Lord's Prayer
Our Father who art in heaven,
Hallowed be thy name.
Thy kingdom come.
Thy will be done on earth, as it is in heaven.
Give us this day our daily bread.
And forgive us our trespasses,
as we forgive those who trespass against us.
And lead us not into temptation,
but deliver us from evil:
For thine is the kingdom, and the power,
and the glory, for ever. Amen.
Word and Reflection
Choir Anthem
A Prayer for Peace – Michael John Trotta

Lord, make me an instrument of Thy peace;
Where there is hatred, let me sow love;
Where there is injury, pardon;
Where there is error, the truth;
Where there is doubt, the faith;
Where there is despair, hope;
Where there is darkness, light;
And where there is sadness, joy.
O Divine Master,
Grant that I may not so much seek
To be consoled, as to console;
To be understood, as to understand;
To be loved as to love.
For it is in giving that we receive;
It is in pardoning that we are pardoned;
And it is in dying that we are born to eternal life. Amen.
Scripture – Isaiah 35:5-7
Mission Moment – Jan Huston
Christian Education Sunday & Peace with Justice Sunday
Today's mission moment has 2 parts. Today is both Christian Education Sunday (first Sun. in June) and Peace with Justice Sunday (first Sun. after Pentecost).
Christian Education Sunday
Thanks go to the people who have worked with our children and youth this year:
Babyfold – Barb Armstrong with help when needed by Amanda Taylor
Elementary – Elaine Troy and Amanda Taylor. Special music opportunities have been provided by Frankie and Pam DiMezza, Barb Armstrong, and Drew Vickery.
Youth – Sylvester Doyer and Cliff DaVis. Most of our youth are graduating from high school this year. We will honor them on June 20 and 21.
Peace with Justice Sunday – June 7, 2020
Peace with Justice Sunday is one of 6 special Sundays celebrated in the United Methodist Church. The offering witnesses to God's demand for a faithful, just, disarmed, and secure world. A short video shows some of the uses of the money donated on this special day.

While half of all funds received by churches is remitted to the General Board of Church and Society for support of a global grant program, the rest stays within the Upper NY area and will be used to provide grants for programs, projects, trainings and resources to aid Peace with Justice efforts locally. The primary objectives of projects receiving grants from the Upper NY Conference are to understand causes and seek alternatives
to individual, national, and international violence; promote reconciliation, transformation, and restoration of relationships; address root causes of poverty and promote self-development of peoples and communities; and to work to end human rights injustices designed to oppress minority groups.
Some projects outside of our conference which have benefitted from this offering are a peace ministry uniting Arizona border communities, a program in Liberia equipping United Methodists to implement the denomination's Social Principles in order to address social-justice issues, and a program in U.S. communities working to decrease human trafficking.
To donate to the Peace with Justice offering you can send a check made out to FUMC with the notation "Peace with Justice" or you can go to the church's website and donate online.
Children's Time
Passing the Peace
If you are worshiping with others, please pass the Peace of Christ. Whether you are alone or with others, please take a moment to find God's peace within, and then to share it with the world. This may take several breaths or moments, it is OK to wait. Sharing might work well this way: think of a dearly beloved with whom to share the peace, then think of other beloveds, then of friends, then acquaintances, then those who frustrate you, then those you don't really know, then those you don't know at all. In this way, God's peace (wholistic well-being) is spread to all.
Please note you can also share the peace online through our Facebook page, or yours

Hymn #408: The Gift of Love
Scripture Reading: Acts 2:1-3,42-43
Sermon – "Am I Dreaming?" – Rev. Ray Stees
Responding
Offering

If you wish, you are welcome to use this time to make a donation to the church online, or to put a check in the mail.
The time of offering is not only about our financial gifts to the church, it is about offering our lives to God and the building of the kindom. This is a time for reflection: What is being asked of us? What is being given to us? What are we able to offer? What do we need?
Offertory Anthem
"For Everyone Born" Arr. Tom Trenney

Prayer of Presentation
Spirit of the Living God, fall afresh on me.
Melt me, mold me, fill me, use me.
Spirit of the Living God, fall afresh on me.
Hymn #577: God of Grace and God of Glory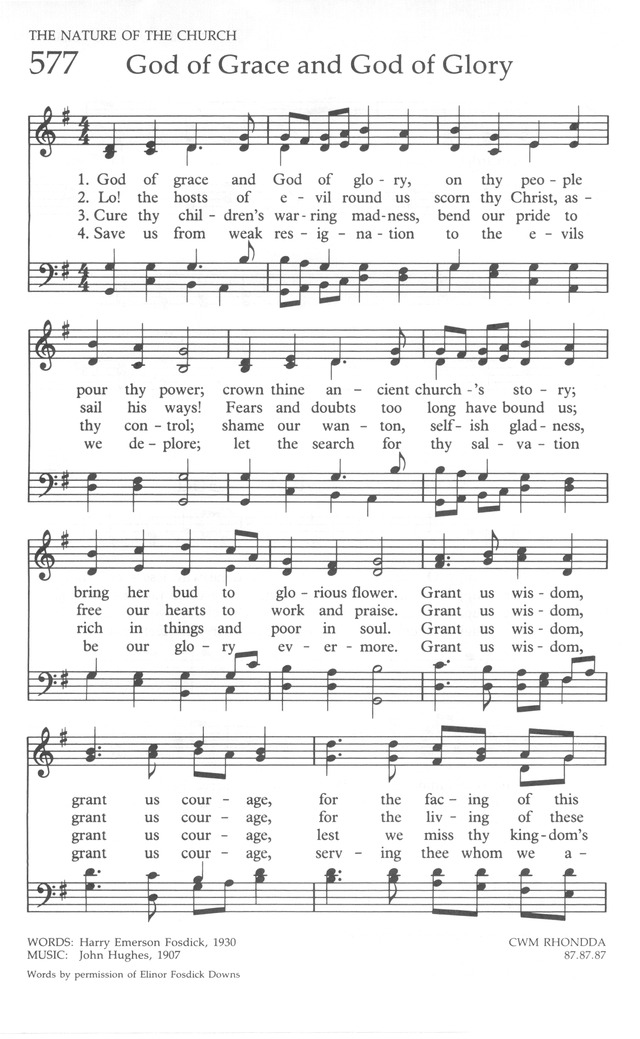 Benediction
Bear witness to the love of God in this world, so that those to whom love is a stranger, will find in you, rich, generous, and compassionate friendship.
Postlude
"Chaconne" by Louis Couperin
Performed by Dominick Giaquinto, Organ