First United Methodist Church of Schenectady
Worship for Epiphany
January 10, 2021
Getting Centered
It may help to center yourself into worship by lighting a candle, as a symbol of God's presence with you during the time of worship. You may also want to pay attention to lighting, the position of your body, and the availability of distractions.
Breath Prayer
"Holy Spirit, open our eyes."
Breath prayers involve breathing in the first phrase, and breathing out the second.
You may wish to simply pray for a moment before starting, or you may wish to pray while listening to the prelude.
Prelude
"Wie schön leuchtet der Morgenstern (How Brightly Shines the Morningstar" by Johann Pachelbel

Call to Worship
One: The story says the Magi came from the east seeking.
Many: They were seeking "the King of the Jews."
One: Their questions discomfited Herod.
Many: Their commitment to a star likely discomfited their families!
One: They were open to new information,
Many: they followed a star,
One: and they trusted their dreams.
Many: May we open our hearts and minds to what God is doing among us.

Hymn #245: The First Noel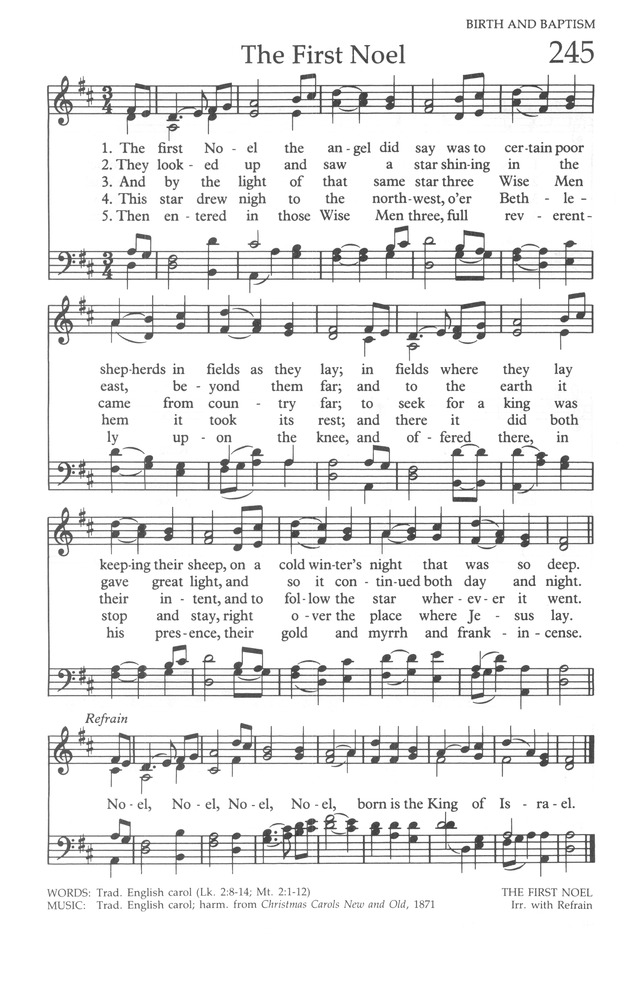 Connecting in Prayer
Shared Prayer

Holy Spirit,
In the stories of this past week, we are reminded of the ancient question,
"How long, O Lord?"
How long will violence be used as means of power?
How long will racism subvert the better angels of our nation?
How long will justifications for the unjustifiable be spoken?
How long will it take us to know how to respond?
Guide us, Holy One.
Help us sit in discomfort,
help us be open to novelty.
Help us.
Amen

Silent Prayer
Pastoral Prayer and "Grown Up's Time"
You are welcome to read this out-loud or silently.

The Lord's Prayer
Our Father who art in heaven,
Hallowed be thy name.
Thy kingdom come.
Thy will be done on earth, as it is in heaven.
Give us this day our daily bread.
And forgive us our trespasses,
as we forgive those who trespass against us.
And lead us not into temptation,
but deliver us from evil:
For thine is the kingdom, and the power,
and the glory, for ever. Amen.
Word and Reflection
Choir Anthem
There Shall a Star from Jacob Come Forth by Felix Mendelssohn

Scripture: Isaiah 60:1-6
Mission Moment
VIM Trip & Mission Moments – Jan Huston
First – A request and suggestion! Please consider offering a mission moment some time in the new year. Don't make it a resolution as those are rarely kept. But maybe it could be a goal – something to think about. I hope that most of you have read a book or had an experience that is worth sharing. It might be hopeful, insightful, inspiring, challenging, etc. – something that would help the rest of us as we are anxious and hopeful about what 2021 will bring. If you can, send me a paragraph or two to share as a mission moment.


Second – In July of 2015, FUMC sent a Volunteers in Mission (VIM) team to the Hogansburg, NY, UMC to build a new ramp on their church. Hogansburg is in northern NY on the Canadian border and on the edge of the Akwesasne/ St. Regis Mohawk Reservation. Most of the members of the church are Mohawk people. Our 4-day experience included receiving bountiful hospitality and friendship and learning about Mohawk culture. They opened their museum just for us; two teenage boys even sang Mohawk songs for us. Every year at Christmas, I receive a card from Dan Cook, one of the leaders of the church. He is also a member of the Upper NY Annual Conference Committee on Native American Ministries. The note on
his card this year is "Greetings from Akwesasne. We pray that you are well and safe. We will always be grateful to FUMC's Mission Team to Hogansburg. May God bless you always. With love, prayers, and gratitude, Dan C. and Hogansburg UMC family."


Volunteers in Mission experiences benefit both the recipients of the "project" and the team members in lifechanging ways. Experiences can be for just a few days or for a few weeks. There are many different kinds of needs and, therefore, many different kinds of VIM teams. I hope that when the pandemic is more under control, FUMC might again participate in more VIM activities.

Passing of the Peace
If you are worshiping with others, please pass the Peace of Christ.
Whether you are alone or with others, please take a moment to find God's peace within, and then to share it with the world. You may want to reach out to speak peace to another during this week.

Hymn #254: We Three Kings

Scripture Reading – Matthew 2:1-12
Epiphany Puppet Show
Responding
Offering

Photo by Alice Nash
If you wish, you are welcome to use this time to make a donation to the church online, or to put a check in the mail.
The time of offering is not only about our financial gifts to the church, it is about offering our lives to God and the building of the kindom. This is a time for reflection: What is being asked of us? What is being given to us? What are we able to offer? What do we need?
Offertory Anthem: Christmas Lullaby by John Rutter
Prayer of Presentation
Holy Spirit,
May the gifts we give be used to build your kindom, and may that in us which resists the kindom be let go.
Amen
Hymn #2095: Star Child

Benediction
May we find new paths, new ways home, ones that bring more life and impede that which God needs to have impeded. Amen
Postlude
March from "Song of the Birth of Our Lord" by Marc-Antoine Charpentier